WISH ALL LOL READERS A BLESSED NEW YEAR 2009
DEVOTIONAL MESSAGE
ECUMENISM: THE MINISTRY OF RECONCILIATION
Most Rev. Philipose Mar Chrysostum Metropolitan
Marthoma Valia Metropolitan
Marthoma Church

Removal of God from the center of individual life and giving way for our selfish motivations had caused the world to loose God. In a broad sense, ecumenism is not only the unity of Christian Churches, but it is also the return of the entire creation to the creator God. After coming back to God the man should go together to world along with God. God calls us to accomplish reconciliation ministry to the World. Responding to this call is the greatest worship to God. All the churches should join together in this worship.
COVER MESSAGE
THANKS, PRAISES AND WORSHIP TO OUR LORD
By Dr K.C.Nainan, Atlanta, Georgia, U.S.A
We have all the reasons to thank, praise and worship our true living God who created all planets and stars from nothing but His Word. Psalms of Old Testament are full of thanks, praises and worship to the creator of heavens and earths and their contents. It is only our duty to glorify the holy Name the triune God of Father, Son and Holy Spirit. God is our Father whose love, mercy and care are always constant and eternal which we cannot comprehend completely but enjoy and experience. Let all believers thank, praise, pray and worship our living God through out this New Year.
BIBLE STUDY SERIES
DO NOT FALL OVER YOUR STRENGTHS! [REVELATION 3:14-22]
By Fr. Dr. Reji Mathew, STOTS Nagpur
The lukewarm response of the Church and the impression that, "I am rich and well off; I have all I need"; both these are sins in the eyes of the Spirit of God. The richness of worldly churches is seen as forgery in the eyes of God. Prosperity can impress only the world and not God. God advise man to pray for clear vision to see the things in a proper perspective. The strengths about which we are proud of can lead us to failures.
ARTICLE
WHAT DOES CHRISTMAS MEAN TO ME?
By Prof. Dr. Zac Varghese, London
Christmas will have its true meaning if people see us living out our faith with courage, if they see that we are a community where there is kindness and forgiveness, if we reach out to hold and to heal the wounded, the weak and the suffering among us then others will know who we are, and what we are celebrating at Christmas. The good news of Christmas season is hope and reconciliation. The good news of Christmas should remind us that God reaches out in love and calls us to love one another. Christmas in a nutshell is the fulfilment of a promise through the obedience.
ARTICLE
SRI RAMAKRISHNA PARAMAHAMSA AND CHRISTIANITY
By Mrs. Mini Krishnan Madras
All spiritual thinkers say that the intensity of will that goes into the search for stability can, be channelized to function successfully through a method to overcome any negative and that is to tell ourselves that we already have the capacity to be strong. Of all the teachers of Vedanta, no one expressed the idea of religious universality and harmony more plainly than Sri Ramakrishna Paramahamsa learned other religions in the true spirit of his own all- embracing one. The image and teachings of Jesus Christ attracted Sri Ramakrishna in particular and a strong spiritual connection between Christ and the monastic order of Sri Ramakrishna exists.
ARTICLE
IN SEARCH OF AN ECUMENICAL HORIZON IN GOD'S OIKOUMENE
By Rev. Dr. M.J. Joseph, Devalokam
What the world needs today is less of religion as dogma, creed and code, but more of its nectar: spirituality. The spirituality of religion speaks of Christ in relation to the peoples of God and to the order of creation. Spirituality speaks of one's relationship with God and with others. The concerns of 'the whole inhabited earth' (oikoumene) should be the concerns of all people on earth. Ecumenism is a vision for humanity upholding a sense of belonging. Any ideology that disowns the poor and the wretched of the earth has no place in the Kingdom of God. In our search for an ecumenical horizon in God's world, we need to act as channels of grace and agents of change.
ARTICLE
COIN'S OTHER SIDE
The head side of the coin of Christian life is the pure and true worship of God with our whole heart and strength and the tail side is the righteous life of Christian endurance. Instead of highlighting our service to others, think that we have done something that God had made us as the instruments for some timely service. We don't have anything to claim because we give to others what have been given to us as a gift. It is only a transfer of service that we have got from God. Having blind faith in the redemptive mission of Jesus and the culture of forgiving and forgetting like a child is the starting point for the Marathon race of our salvation.
ARTICLE
LIVING ON GOD'S DESIGN - SERIES 9
YE ARE MY WITNESS
By Dr. George K. Zachariah, Washington D.C.
The word of God means to give visible evidence of an invisible experience. A Christian witness is someone who, in a variety of ways communicates the truth as it is to be found in Christ. The real witness is not the witness of words but deeds. Love of the Lord and for the Lord is the key to effective witness. Jesus shows us the way of being witnesses. Right living and right speaking is the prescription for true witnessing. As faithful witnesses of Jesus we have to trust that our lives too will be fruitful even though at the time we cannot see their fruit. The fruit of our lives may be visible only to those who follow us.
SHORT BIOGRAPHY
LIFE OF ABRAHAM MARTHOMA METROPOLITAN
Bishop Abraham was a man who gave due importance for prayer and fasting. From 1917 to 1944, Bishop Abraham was the Suffragan Metropolitan. He was popularly known as "Marettu Kochu-Thirumeni. He infused new spirit and vigor into the evangelistic work of the Mar Thoma Church. Bishop Abraham had an intimate relation with his Master. Manytimes instant answers were obtained to his prayers. Bishop Abraham was concerned with the manners and morals of our church members.
SYNOPSIS-SERIES
SYNOPSIS FOR MEDITATION-JANUARY
By V. Rev. Thomas P. Mundukuzhy Cor Episcopa
New Year, Circumcision; St. Basil, St. Gregorios
Second Sunday After Christmas : St. Luke 2:40-52
Epiphany / Theophany [Feast Of Lights] : St. Luke 3:7-22
St. John, The Baptist [January 7]
St. Stephen, The Martyr [January 8]
First Sunday After Epiphany : St. Matthew 4:12-22
Second Sunday after Epiphany : St. John 1:26-51
Third Sunday After Epiphany : St. John 3:1-12
MALAYALAM SECTION:
ARTICLE [MALAYALAM]
FOR SHE HAS DONE A GOOD DEED TO ME?
God has Godly yardstick to measure the deeds of man. He does not look through human eyes. Deeds which are seen as mean in human eyes are considered lofty in the eyes of God. What ever come out of Godly love will be considered as Good by God. While we express our intense love to God we loose many material things in the world. Our services and ministry to God should be out of our thankfulness to God for forgiving our sins and given a transformed life. Jesus hate sin, but he loves the sinners. Heaven rejoice on the repentance of the sinner.
ARTICLE [MALAYALAM]
WORLD, FLESH AND SATAN
By Rev. Abraham Zachariah
The strong forces, which retract those walks looking at God and heaven, are world, Flesh and Satan. These three forces try to drag men in the Old Testament and New Testament. Though the disciples of Jesus were in state of aimlessness after crucifixion of Jesus, Jesus Himself dragged them back to their commission. After the downpour of Holy Spirit on the Pentecost, the disciples became transformed and defeated the world, flesh and Satan.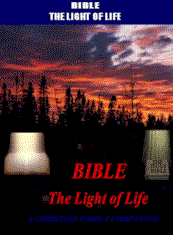 'The Bible
Light of Life'
[A Christian Family Companion]



INDIAN CHRISTIAN ORTHODOX NETWORK


KCBC AWARDS 2008 : LOL AUTHOR PROF. GEORGE MENACHERY IS AWARDED WITH THE DARSHANIKA VYJNANIKA AWARD
Kochi.K. Puthussery has won the literary award instituted by the K.C. B. C. Media Commission. Prof. George Menachery has won the Mar Mankuzhikkari philosophical award. Fr. Geo Payyappilly and Elizabeth Raju won the media and young talent awards, respectively. [The Hindu].

Malayala Manorama and Deepika add: The Kerala Catholic Bishops' Council's Media Awards 2008 have been announced.A. K. Pudussery bagged the Media Award for his contributions in the fields of the Novel and the Drama.Prof. Chev. George Menachery was selected for the Mar Mankuzhikkary Darshanika Vyjnanika award. Geo Payyappilly obtained the Media Award while singer Elizabeth Raju was chosen for the young talent award.

Rev. Dr. Jacob Kattakkal, O. V. Raphael, Prof. Thomas Kaniyanplavan, Varghese Kanjirathingal, and Abraham Pattani were selected for the Guru Pooja Awards.

A judging committee consisting of the Chairman of the KCBC Media Commission Dr.Mar Thomas Chakiath, Dr. George Irumpayam, Dr. Cherian Kuniyanthodath, Dr. Primus Perincherry, Commission Secretary Fr. Joseph Nicolas had chosen the awardees.

The awards will be bestowed at a function to be held at the POC auditorium, Ernakulam on the 25th of January.
Bethlehem, 22 December (ENI). Unemployment has shrunk to 23 percent and hotel capacity is often around 100 percent these days, so things are looking up for Bethlehem says the head of the city's chamber of commerce and industry board. "While some may gasp at the mention of 23 percent unemployment, when we have witnessed 45 percent unemployment, 23 percent is an improvement," said Bethlehem Chamber of Commerce and Industry chairperson, Samir Hazboun, at a recent meeting with journalists. [520 words, ENI-08-1033]
Courtesy to ENI
Bangalore, India (ENI). India's Bharatiya Janata Party, accused by opponents of pursuing a Hindu nationalist agenda, has swept to victory in Madhya Pradesh state, but leaders of the minuscule Christian community there say they have reason to rejoice. The BJP retained power, winning 143 of the 230 seats in the state legislature when the results were published in mid-December. However, three Christians were among those elected on the ticket of the Congress party to the legislature of the state, where Christians account for less than one percent of the state's 80 million people. [367 words, ENI-08-1023]
Courtesy to ENI
Bangalore, India (ENI). A dispute over the translation of a Hebrew word meaning "green" or "leafy" tree in the Old Testament of the Bible has led to vociferous protests by local people in the eastern Indian state of Jharkhand. The controversy concerns a passage in the Book of Deuteronomy (12:2), which states, in the English translation of the New Revised Standard Version, "You must demolish completely all the places where the nations whom you are about to dispossess served their gods, on the mountain heights, on the hills, and under every leafy tree." [348 words, ENI-08-1012]
Courtesy to ENI
Jerusalem (ENI). Some are addressed to "Jesus", "All inclusive Chris,", "The Temple of Abraham", "Holy Mary", or the "City of God", but most of the letters which end up in the Israeli Postal Service's Dead Letter Department simply bear the word "God". No one really knows how the tradition started of sending letters addressed to God from this little postal service office next to a landmark bakery. Israeli Postal Service general manager Avi Hochman said, however, it is a "huge" responsibility. [484 words, ENI-08-0999]
Courtesy to ENI
Bangalore, India (ENI). Church leaders and Christian groups have said those violently fomenting sectarian violence in India should be punished severely, but they have said they oppose capital punishment after a court sentenced 11 Muslims to death for carrying out blasts in several churches in south India in 2000. The court in Bangalore said the accused had committed "heinous crimes against humanity and the country". In addition to the 11 people who were sentenced to death on 29 November, another 12 were given life imprisonment. [404 words, ENI-08-0998]
Courtesy to ENI