DEVOTIONAL MESSAGE
IMPORTANCE OF FASTING IN SPIRITUAL LIFE
H.G. Mathews Mar Savarios Metropolitan
Diocesan Metropolitan of Kandanadu Diocese
Malankara Orthodox Church

The basic foundation of fasting was the discovery of eastern ascetic stalwarts that physical discipline is essential for spiritual purgation. As per Christian tradition, fasting is preparation for feasts. Liberation from the bondage of sin is necessary to regain image and character given by God. Fasting is the period of repentance. It is the time to realize the power of God embedded in us. Fasting is the discovery of divine glory within us. Abstaining from certain food and some bodily relations cause our body not to imprison the soul.

COVER MESSAGE
SOW GOOD SEEDS FOR GREAT HARVEST
By Dr K.C.Nainan, Atlanta, Georgia, U.S.A

No harvest without sowing suitable and good seeds. The seeds can be our thoughts, words, prayers, dreams and desires, and predominantly our actions. Good Lord will certainly provide a great harvest of several folds in His own time. All our sincere and unselfish efforts are always accounted before the Lord. There is a fountain of great joy that comes from giving. God has called us to be useful and powerful witnesses for God's great plan of salvation.

BIBLE STUDY SERIES
THE MINISTRY OF THE EPISCOPATE

By Fr. Dr. Reji Mathew, STOTS Nagpur

According to Orthodox ecclesiology the bishop is the President of the Eucharist. The Eucharistic function of the bishop should not be considered as less important to other duties of a bishop. On the one hand the bishop is the sacramental presence of Jesus Christ with in the Church. But on the other hand he unites all the people. What distinguishes a bishop from a priest is his authority for ordination. Early Church adopted this as a sign for handing over priestly authority. It is his prerogative as a successor of the Apostles. Teaching can be considered as the unique function of a bishop.

ARTICLE
SEEK AND YOU SHALL FIND - PART 1

By Rev. Dr. Valsan Thampu

Spirituality is a framework within which our assumptions about what is serious and what is not need to be re-valued. Seeking is a spiritual imperative; for, if we do not seek, we become blind. In the biblical context seeking is situated in human lostness. Seeking, is an expression and celebration of freedom. What humankind has lost, on account of sin and alienation fro God, is a sense of the fullness of everything, including one's own life.

ARTICLE
RIGHTEOUSNESS AND PEACE HAVE KISSED

By Prof. Dr. Zac Varghese, London

When there is neither truth nor mercy all goes to ruin. How do the infinite characteristics of God move, take form and manifest in our lives? In our daily living out of our desire to follow Christ, how do we see God taking shape around us and within us? When a people return to God and adhere to him in a way of duty he will return to them and abide with them in a way of mercy. When man's truth and God's mercy, and man's righteousness and God's peace meet together, it originates the Kingdom of God on earth.

ARTICLE
GOD'S SALVATION PROCESS OF WOMEN

The pouring of the Spirit of God on the day of Pentecost upon the multicultural people of the then world happened, while also the 11 apostles and the mother of God assembling and praying there after the ascension of Jesus. The dissemination of the human species, both has the authority and duty of Christian gospelization. A joint accountability in complementing roles of man an women is a good sign of joint stewardship.

ARTICLE
STREAMS OF FRIENDSHIP

By Rev. Dr. M.J. Joseph Devalokam

A friend is a single soul dwelling in two bodies.[Aristotle] Frienship is the relationship that makes life something beautiful for God. It is possible to make friendship. But to keep it growing, one has to learn the art of life. The relationship between the two could be fortified through communication and visit. The legacy of family friendship could also be made alive through contacts. God gives us our relatives; thank God we can choose our friends.

SHORT BIOGRAPHY
LEYAMMA MUNDAKAPADAM AGATHIMANDIRAM

This is the story of an ordinary Marthomite woman who lost her parents when she was very young, and shouldered the responsibility of a home from the tender age of 7. She, along with her brother, established the Mundakappadam Agathimandiram. She lived 31 years. Her sacrificial life remains a challenge, and by reading her life story many are coming forward for the service of the poor.

SYNOPSIS-SERIES
SYNOPSIS FOR MEDITATION-MARCH
By V. Rev. Thomas P. Mundukuzhy Cor Episcopa
Mayaltho : The Presentation Of Infant Jesus In The Temple [Luke 2:22-40]
First Sunday after Mayaltho [Matthew 4:12-22]
The Fast Of Nineveh
Remembrance Of The Departed Clergy [Matthew 24:42-51]
Remembrence Of All Faithful Departed [Matthew 25:31-46; Luke 12:32-48; John 5:19-29] MALAYALAM SECTION:
ARTICLE [MALAYALAM]
GOD OF CONSOLATION

By Rev. Fr. Dr. T. J. Joshua

Lord Jesus is touched with a feeling of our infirmities, a sympathizing physician, tender and skilful; he knows how to deal with tempted sorrowful souls, because he has been Himself sick of the same disease, not of sin, but of temptation and trouble of soul. Our Lord is a God of consolation. Lord comforts those who are in deep distress. Apostle had received consolation from the Father of Jesus Christ. Lord GOD will wipe away tears from off all faces.

ARTICLE [MALAYALAM]
WHAT GOD HATH JOINED TOGETHER

By Rev. Abraham Zachariah

St. Paul exhorts us for mutual love and compassion in family life. Wives, submit yourselves unto your own husbands, as it is fit in the Lord. On the other hand, husbands must love their wives, and not be bitter against them. Apostle counts family as an organic relationship. House is made of hands, but the home is made of hearts. Though human hands it is blessed by the invisible hands of God administer the marriage. A complete Christian family life essentialy needs the presence of God.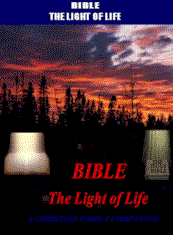 'The Bible
Light of Life'
[A Christian Family Companion]



INDIAN CHRISTIAN ORTHODOX NETWORK


His Grace Philipose Mar Eusebius is no more with us in physical body. It is indeed a time for the Church and all his friends to give thanks to God for the gift of a compassionate bishop. As the Eusebius of old, Metropolitan Mar Eusebius had shown great interest in the study of the history of the Churches. For him, Church history is not simply a record of light and shades, but an ongoing dialogue of God with the human race.
Bangalore, India (ENI). Church leaders in India's central Madhya Pradesh state have demanded the disbanding of the commission for minorities for proposing government intervention in the management of church properties. The protests by the Christian leaders follows a recommendation by the commission, set up to safeguard the interests of religious minorities, that legislation should be enacted to bring the management of church-owned trusts and other properties under government control. [363 words, ENI-09-0130]
Courtesy to ENI
Bangalore (ENI). A survey of young Roman Catholic nuns in India's southern Kerala state has found that a quarter of them feel unaccepted or sometimes unwelcome in convents while the remainder are "contented and happy " with their life there. "The survey findings are very positive in the context of the present consumerist lifestyle," the Rev. Paul Thelakkat, editor of Sathyadeepam, a Catholic periodical that published the results, told Ecumenical News International. [441 words, ENI-09-0120]
Courtesy to ENI
Nuagam, India (ENI). Tapan Kumar Nayak was delighted when officials in the Orissa state's troubled Kandhamal district declared that the crowded relief camp at Raikia would close from mid-January and that the inmates would be shifted nearer to their villages. "We came here with much enthusiasm. But, now our plight is worse," Nayak told Ecumenical News International at a relief camp at Mondakia, just three kilometres from his village of Bakingia. "There is no water supply here and the [Hindu] villagers here are objecting to us taking water from the tube well," he lamented. [686 words, ENI-09-0109]
Courtesy to ENI