WISH ALL LOL READERS A HAPPY EASTER
DEVOTIONAL MESSAGE
ST. STEPHEN - THE PROTOMARTYR OF CHRISTIANITY
H.G. Dr. Zacharias Mar Theophilus Suffragan Metropolitan
Diocesian Metropolitan of Chengannur-Mavelikara Diocese
Marthoma Church

The first martyr of the Holy Church, Stephen was the crown of the cloud of the saints. Stephen witnessed Christ in public with his arguments replete with the Divine energy of the Scriptural authorities. In short, the theme of Stephen's discourse before the Council of Sanhedrin was, 'God outside Jerusalem and God outside Temple'. At the time of his martyrship Stephen experienced a theophany in that he saw both the Father and the Son in an open heaven. In the long chronicle of Christian martyrs, the story of Stephen stands out as one of the most moving and memorable.
COVER MESSAGE
THE TREE IS KNOWN BY ITS FRUITS [ST. LUKE 6:44]
By Dr K.C.Nainan, Atlanta, Georgia, U.S.A
A believer's thoughts, words, actions and lifestyles show the power and witness of salvation. A saved Christian is a new creation. He is a newly grafted branch in the wounds of the divine Vine of Christ to dwell forever and produce fruits to glorify our Heavenly Father. When we surrender and live in Christ Jesus, we will produce fruits of Spirit for God's glory!
ARTICLE
WHAT SHALL I DO? [PART 1]
Go and Do Likewise!
By Rev. Dr. Valsan Thampu
Encountering God activates the essence of our humanity. Alienation with God cripples our dynamism. Alienation is a state of spiritual paralysis. We cannot do any good in respect of what we are alienated from. We cannot worship God "in spirit and in truth" if our knowing and doing are not integrated. God comes seeking after us to rescue us from hiding. Our encountering God activates the spiritual need "to do".
ARTICLE
THE KINGDOM OF HEAVEN AND AHAM BRAHMASMI
By Mini Krishnan - Oxford University Press, Madras
The similarity between Christ's teachings as seen in the Gospels and the YajurVeda Mahavakya are so striking that it is unsurprising to learn how the Brahmin Scholars in Tirunelveli responded to the 17th century Italian missionary Roberto Di Nobili. They listened carefully to the Good News he brought and said that they saw nothing new, startling or threatening in it. Their own scriptures said the same things and had said it some millennia before. Had their visitor heard? He had not.
ARTICLE
CHARITY AND SOCIAL ACTION - EASTER 2010
By Prof. Dr. Zac Varghese, London
It takes a courageous and insightful group of people to discern the difference between real need and the people who use charity as a crutch to get through an unfortunate life. Charity without establishing justice is unrealistic. During the Lent period we should reflect on two events: first, we should look inside ourselves and see the transfigured and risen-Christ; secondly, we should look out and see the Earth with all its problems and potential possibilities through the grace of risen-Christ. We need a very special sensitivity to see the needs of all creation and taking the basic steps to alleviate those needs.
SYNOPSIS-SERIES
SYNOPSIS FOR MEDITATION-APRIL
By Late V. Rev. Thomas P. Mundukuzhy Cor Episcopa
Lent V: The Bent Woman : St. Luke 13:10-17
Lent VI: The Blind Man : St. John 9:1-41
40th Friday of Lent: St. Luke 4:1-13; Matthew 4:1-11
Lazarus Saturday: St. John 11:1-46
Palm Sunday: Matthew 21:1-17; Mark 11:1-11; St. Luke 19:28-34; St. John 12-19
Passover : St. Luke 22:14-30; St. John 6:41-63
Good Friday: St. Matthew 26-27; St. Mark 14-15; St. Luke 22-23; St. John 18-19
Good/Great Saturday: St. Matthew 27:57-66; St. Mark 15:42-16:1; St. Luke 23:50-56; St. John 19:31-42
Resurrection Sunday: St. Matthew 28:1-20; St. Mark 16:1FF; St. Luke 24:1FF; St. John 20:1FF
First Sunday After Easter: St. John 20:19-31
Second Sunday After Easter: St. John 21:1-14
MALAYALAM SECTION:
ARTICLE [MALAYALAM]
THE FAMILY WHO SURMOUNTED THE DELUGE
By Rev. Fr. Dr. T. J. Joshua - Orthodox Theological Seminary, Kottayam
After the deluge a new generation emerged out. While Adam was the father of nations before the deluge, Noah was the father of the generations after the deluge. Noah was a righteous man, blameless in his time; Noah walked with God. He found favor in the eyes of the Lord. Noah never got blemished with the wickedness of the surrounding society and environment. Noah did according to all that God had commanded him. God remembered Noah and redeemed him at the real time.
ARTICLE [MALAYALAM]
HEALING OF THE BENT WOMAN
By V. Rev. Dr. Nathaniel Ramban - Superior, St. Paul's Ashram, Mavelikkara
Our Lord Jesus gave a miraculous cure for a woman that had been long under a spirit of infirmity by which she was bowed together for eighteen years. Though she was under this infirmity, by which she was much deformed, and made to look mean, and not only so, but, as is supposed, motion was very painful to her, yet she went to the synagogue on the Sabbath day. When Jesus saw her, he called her to him. He bestowed His caring, sharing and identifying love to her and released her from her bondage.
ARTICLE [MALAYALAM]
AWAKENING MESSAGE OF PROPHET JONAH
By Rev. Fr. Kurien Daniel - Catholicate College, Pathanamthitta
In the book of Jonah we see a series of repentance and deliverance. There brief utterances of Jonah in the ship give us awakening prophetic messages. The bold identification Jonah gave about himself to the ship-master indicates the spiritual integrity of Jonah with God: I am a Hebrew; I worship the God who made the Land and Sea. He put himself into their hands, to cast him into the sea, and assured them that then the sea would be calm, and not otherwise. Through this Jonah spoke the language of true penitents.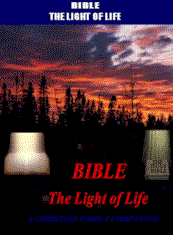 'The Bible
Light of Life'
[A Christian Family Companion]



INDIAN CHRISTIAN ORTHODOX NETWORK



Geneva (ENI). The Niwano Peace Foundation has announced it will award its 2010 peace prize to Ela Ramesh Bhatt, an Indian Hindu who is a follower of the teachings of Mahatma Gandhi, and who applies them to enable women to become self-sufficient. In a 24 February statement announcing the winner of the Niwano Peace Prize, the foundation said Bhatt is "known as the 'gentle revolutionary'." It added, "She has dedicated her life to improving the lives of India's poorest and most oppressed women workers. [448 words, ENI-10-0133]
Courtesy to ENI
Kathmandu (ENI). Officials in a north-eastern Indian state, where more than 70 percent of the population are Christians, have confiscated school textbooks that contained an image of Jesus holding a beer can in one hand and a cigarette in the other. Officials of the St Joseph Girls' Higher Secondary School in Shillong, the capital of India's predominantly tribal and Christian state of Meghalaya, said they have filed a complaint with police against the publisher of the book, Skyline Publication, based in New Delhi. Parents brought the illustration to the notice of the school authorities who in turn reported it to the state's education ministry. Police have seized about 30 copies of the book, meant as an aid for the teaching of writing and spelling, while the school, run by nuns, has asked its students to return any remaining copies in which the image was used to illustrate the word "idol". [289 words, ENI-10-0129]
Courtesy to ENI