DEVOTIONAL MESSAGE
MY FAITH IS MY EXPERIENCE
H.G. Zachariahs Mar Nicholovas Metropolitan
Asst. Diocesian Metropolitan of North East American Diocese
Malankara Orthodox Church

In Apostle Thomas we find a disciple who does not sustain with the knowledge from others. Apostle Thomas who brought the Gospel to our forefathers and ancestors teach us that the faith is not the experiences of others, but it is the sole experiences of our own. It is important to test what we believe by what we experience. Faith is pruned and fine tuned through experience, implying that our beliefs ought to remain consistent with our experience. There is no truth that will be contradicted by our experience.

COVER MESSAGE
KEYS OF THE KINGDOM OF HEAVEN [MATTHEW 16:19]
By Dr K.C.Nainan, Atlanta, Georgia, U.S.A

Every believer in Jesus Christ has the keys of Kingdom of God. Salvation and the eternal life are the most important achievements any human being could have in this world. Jesus Christ is the only answer and way. The keys are all the gifts, talents, potential abilities we are endowed with the Holy Spirit who is a Gift to every believer. He dowels in all born-again followers of our Lord. Without the Spirit we do not have the keys.

ARTICLE
WHAT SHALL I DO? [PART 1]
Go and Do Likewise!

By Rev. Dr. Valsan Thampu

Encountering God activates the essence of our humanity. Alienation with God cripples our dynamism. Alienation is a state of spiritual paralysis. We cannot do any good in respect of what we are alienated from. We cannot worship God "in spirit and in truth" if our knowing and doing are not integrated. God comes seeking after us to rescue us from hiding. Our encountering God activates the spiritual need "to do".

ARTICLE
"BUT WHO DO YOU SAY THAT I AM?" [LUKE 9:20]

By Mini Krishnan - Oxford University Press, Madras

Imagine the depth and quality of the character, and the unity and design in the life of the man before and after whom, Time itself is divided. Jesus of Nazareth brought with Him into the world of His time, more originality than anyone else who ever entered it. A touch or a look will not ensure union with the Divine. Nor can we be 'saved' thus. We have to work on ourselves to improve morally and spiritually, and reflect on the messages of the great teachers in order to experience in ourselves the goal of all the revelations.

ARTICLE
'SOLIDARITY, YES, BUT NOT IN MY BACKYARD!'

By Prof. Dr. Zac Varghese, London

Christian faith demands the acceptance of brotherhood and sisterhood; In Christ, we have this amazing family relationship and bonding. Christian faith demands unity and it is oriented towards fellowship. The Church is not a closed community; it is expected to be an inclusive community because Jesus was a friend of little people, poor, sick, downtrodden and marginalised. Ordinary Christian folks and faith communities need to understand the very simple fact that we are the only Bible that people out there read.

SYNOPSIS-SERIES
SYNOPSIS FOR MEDITATION-MAY
By Late V. Rev. Thomas P. Mundukuzhy Cor Episcopa
Lent V: The Bent Woman : St. Luke 13:10-17
Lent VI: The Blind Man : St. John 9:1-41
40th Friday of Lent: St. Luke 4:1-13; Matthew 4:1-11
Lazarus Saturday: St. John 11:1-46
Palm Sunday: Matthew 21:1-17; Mark 11:1-11; St. Luke 19:28-34; St. John 12-19
Passover : St. Luke 22:14-30; St. John 6:41-63
Good Friday: St. Matthew 26-27; St. Mark 14-15; St. Luke 22-23; St. John 18-19
Good/Great Saturday: St. Matthew 27:57-66; St. Mark 15:42-16:1; St. Luke 23:50-56; St. John 19:31-42
Resurrection Sunday: St. Matthew 28:1-20; St. Mark 16:1FF; St. Luke 24:1FF; St. John 20:1FF
First Sunday After Easter: St. John 20:19-31
Second Sunday After Easter: St. John 21:1-14 MALAYALAM SECTION:
ARTICLE [MALAYALAM]
APOSTOLIC BENEDICTION TO GALATIANS

By Rev. Fr. Dr. T. J. Joshua - Orthodox Theological Seminary, Kottayam

Apostle Paul bless Galatians with grace and peace from God the Father, and from the Lord Jesus Christ. But we may observe, First grace, and then peace, for there can be no true peace without grace. Jesus Christ gave Himself with will of His Father to deliver us from this present evil world as a great sacrifice to make atonement for us and it was in the mind of God before the origin of universe. Grace comes from Father as the fountain, through Jesus Christ as the channel of conveyance.

ARTICLE [MALAYALAM]
UNRESTORABLE SICKNESS

By Rev. Fr. Joji K. George

Though the physician and medicine are both ready, the health of patient cannot be restored unless there is a real repentance and coming back. God wish that all those who turned out to wickedness and damnation should come back to goodness. God act through God's for the healing of the people those who are attuned to humiliation and repentance. Society should be aware that religion should not be politicized.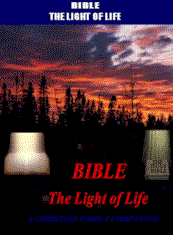 'The Bible
Light of Life'
[A Christian Family Companion]



INDIAN CHRISTIAN ORTHODOX NETWORK



Geneva (ENI). The Niwano Peace Foundation has announced it will award its 2010 peace prize to Ela Ramesh Bhatt, an Indian Hindu who is a follower of the teachings of Mahatma Gandhi, and who applies them to enable women to become self-sufficient. In a 24 February statement announcing the winner of the Niwano Peace Prize, the foundation said Bhatt is "known as the 'gentle revolutionary'." It added, "She has dedicated her life to improving the lives of India's poorest and most oppressed women workers. [448 words, ENI-10-0133]
Courtesy to ENI
Kathmandu (ENI). Officials in a north-eastern Indian state, where more than 70 percent of the population are Christians, have confiscated school textbooks that contained an image of Jesus holding a beer can in one hand and a cigarette in the other. Officials of the St Joseph Girls' Higher Secondary School in Shillong, the capital of India's predominantly tribal and Christian state of Meghalaya, said they have filed a complaint with police against the publisher of the book, Skyline Publication, based in New Delhi. Parents brought the illustration to the notice of the school authorities who in turn reported it to the state's education ministry. Police have seized about 30 copies of the book, meant as an aid for the teaching of writing and spelling, while the school, run by nuns, has asked its students to return any remaining copies in which the image was used to illustrate the word "idol". [289 words, ENI-10-0129]
Courtesy to ENI