DEVOTIONAL MESSAGE
THE DIVINE BREAD FROM HEAVEN
Rt. Rev. Joseph Mar Barnabas Episcopa
Diocesian Bishop of Delhi-Bombay Diocese
Marthoma Church

Holy Eucharist is manifestation of the resurrection of Jesus Christ. Every Sunday when the holy Mass is consecrated it is a mini celebration of the Easter fiesta. When we commune with Lord's Table, we become a part of the body of the God Almighty. The communion is given for healing of the body and the soul. This is a meal of thanksgiving. The sacrament of Eucharist is a great mystery.

COVER MESSAGE
FAITH AND WORKS ARE COMPLEMENTARY
By Dr K.C.Nainan, Atlanta, Georgia, U.S.A

All believers in Jesus Christ must have a clear understanding and conviction about how we are saved and what is the function of good deeds in our Christian lives. When we believe in Jesus Christ and His sacrifice followed by repentance, we are saved and it is a free gift to all believers. We are saved to do good works, which are the fruits of salvation. We are saved to produce for good works.

ARTICLE
FULLNESS OF LOVE [PART 1]

By Rev. Dr. Valsan Thampu

Because we are created in the image and likeness of God, we cannot wholly blind or insensitive to values and virtues. But because we are subjected to sin, we fall short of their fullness. What is important is not what we do or what we avoid. What matters is whether either of them enables us to get closer to the destination. The only way to ensure that we reach the destination, according to Jesus, is to engage the fullness of all that has been revealed to us the will of God.

ARTICLE
'STILL WATERS RUN DEEP' : AN ECSTASY OF SILENCE

By Prof. Dr. Zac Varghese, London

There is no time or space left for quiet contemplation, and consequently opportunity for intimate interaction with God is lost. Discipleship cannot be realised without discipline. God is silent and yet speaking. Silence makes us ready for a new experience with God. In silence, Godís word can reach the hidden corners of our hearts. When we try to express communion with God in words, our minds quickly come up short. If oneís heart is pure and clean, with no selfishness or greed, one can feel Godís presence when one prays.

POEM
KEEP SMILING ALWAYS...

By Mrs. Aju Tharian - New Jersey

SMILE is a simple and small thing
It brings happiness to me and others
Something you can do without paying
But brings joy and fragrance everywhere.

SYNOPSIS-SERIES
SYNOPSIS FOR MEDITATION-JUNE
By Late V. Rev. Thomas P. Mundukuzhy Cor Episcopa
Second Sunday After Pentecost - St. Matthew 10:5-16
Third Sunday After Pentecost - St. John 6:35-46
Fourth Sunday After Pentecost - St. Luke 10:1-16
Fifth Sunday After Pentecost - St. Luke 9:10-17
Sixth Sunday After Pentecost - St. Matthew 15:32-39; St. Mark 8:1-10 MALAYALAM SECTION:
ARTICLE [MALAYALAM]
A PRAYERFUL FAMILY

By Rev. Fr. Dr. T. J. Joshua - Orthodox Theological Seminary, Kottayam

There are three levels of prayer in Christian life, Church worship, Family Prayer and Personal Prayer. The family Elkana to which the Prophet Samuel was born is a great model for all these three levels of prayers. All above type of prayers are complimentary to each other. There are many reasons to substantiate the need of Community Worship. Jesus as a Community fellowship establishes holy Qurbana itself.

ARTICLE [MALAYALAM]
BLESSED PRESENCE AT TABOR

In connection with thoughts of transfiguration Jesus Christ the attributes for the divine presence are the purity of mind and the body. The glorification of Jesus was a lively resemblance of Christís kingdom, which is made up of saints in heaven and saints on earth, and to which belong the spirits of just men made perfect. We see here, that they who are fallen asleep in Christ are not perished, but exist in a separate state, and shall be forthcoming when there is occasion. The saints who departed this world recognize each other though never seen in worldly life.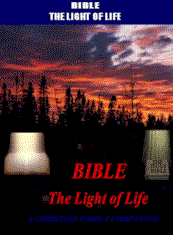 'The Bible
Light of Life'
[A Christian Family Companion]



INDIAN CHRISTIAN ORTHODOX NETWORK



Thrissur, India (ENI). Church leaders in south India say the alleged involvement of a number of clerics in criminal activities shows corruption needs urgent attention in the church. "We are making wrong headlines. This is not how our leaders should be known," the Rev. Mohan Labeer, a pastor and former principal of Tamil Nadu Theological Seminary, told ENInews. Labeer was reacting to the arrest of Church of South India Bishop Manikiam Dorai of Coimbatore a week earlier in connection with the assault on a priest of the diocese for joining a street protest by church members against alleged corruption by the bishop. [385 words, ENI-10-0334]
Courtesy to ENI
Thrissur (ENI). Churches in India are responding to allegations of sexual abuse by clergy around the world by considering their own guidelines to deal with the issue. "Our message should be crystal clear, that churches will not tolerate anyone who is guilty," said the Rev. Christopher Rajkumar, executive secretary of the National Council of Churches in India's commission for justice, peace and creation. The NCCI, which groups 30 Orthodox and Protestant churches, is taking to the June meeting of its executive committee, guidelines on dealing with sexual harassment that were set out in April at the general assembly in Kuala Lumpur of the Christian Conference of Asia. [337 words, ENI-10-0307]
Courtesy to ENI