LOL Family pay tribute to Mr. Jacob Yesudasan Nedumancavu, former Editor of Light of Life, who passed away on June 25, 2008 at Detroit.
DEVOTIONAL MESSAGE
'ARE WE NOT BROTHERS?'
Rt. Rev. Dr. Zacharias Mar Theophilus Suffragan Metropolitan
Diocesian Metropolitan of Chengannur-Mavelikara Diocese
Marthoma Church

One of the causes for the restlessness of our contemporary society is an indecent and improper riches. Exactly as the poverty is a big setback for the society, the riches are also a burden. The riches should not turn out as catalyst for breaking relations. Worldly wealth is given to us as a steward. It is not for the self-use, but it is to share with others; by which the giver and the taker both get joy out of it. The Christian way is not grabbing but it is sharing.
COVER MESSAGE
CHRIST IS THE ONLY BRIDGE TO HEAVEN
By Dr K.C.Nainan, Atlanta, Georgia, U.S.A
Jesus is the only sacrificial lamb by whose death every human being is reconciled to the Father. God's Son became the Son of Man to become the only Bridge, the only Way, or the only Door through which any man and every man is invited to Heaven. We have to love all people irresptive of religion, color, race or nationality. But Christian teaching should remain pure and holy. Christianity is not a religion, it is the Kingdom of God came from Heaven!
BIBLE STUDY SERIES
LIFE OF AN INTER-TESTAMENTAL THEOLOGIAN
By Fr. Dr. Reji Mathew, STOTS Nagpur
The thirst for wisdom is something which distinguishes an academician from an activist. The Inter-Testamental theologian gives more emphasis for the past scholarship. A theologian should have the intellectual curiosity, patience to go through different resources and an analytical mind. Debates and dialogues are good methods for studying things. Travelling is one of the best means for attaining wisdom. Theologian should be a man of devotion, who maintains a regular and intimate relation-ship with the Divine. An effective theologian is able to communicate both verbally and literally. A theologian should have a good reputation.
ARTICLE
BUTTERFLY EFFECT
By Dr. Zac Varghese, London
Hospitality is a major theme in the Old Testament. In the New Testament Jesus has become the reason for hospitality and creates a season for hospitality through out Galilee. From the beginning of ministry of Jesus, He became the medium for hospitality. One of the major emphases in Christianity is moving away from hostility and creating hospitality. In the fields of Mission and evangelism there is an urgent need for greater understanding of other faiths to move away from hostility to hospitality to create wider ecumenism.
ARTICLE
VALLIYA -ETTAN
I stood on my toes and examined the picture of gods carefully for signs of a cross. No. No sign of blood or pain in the picture, no long faces, instead, everyone was dressed in silks and jewels and looked very happy. In an epiphanic moment I realized that "Our Father" was everyone's father. if Our Father was everyone's father, then Jesus who was Our Father's son had to be my Valliya Ettan.
ARTICLE
PERSPECTIVES ON MISSION AND MINISTRY
By Rev. Dr. M.J. Joseph, Trivandrum
The credibility of the Church has become very low because it has lost its 'being' and thereby it projects a blurred image of mission in the world. God calls the Church in each generation to interpret the message of the Kingdom with challenging relevance. Forgiveness and reconciliation are God's agenda of mission. We shall not be able to achieve social justice without justice for natural environment; we shall not be able to achieve justice for nature without social justic
ARTICLE
UNFORGIVABLE SIN
Every sin and blaspheme will be forgiven men, but the blaspheme against the Spirit will not be forgiven. And whoever says a word against the Son of man will be forgiven; but whoever speaks against the Holy Spirit will not be forgiven, either in this age or in the age to come. The Almighty Father is likely to forgive our sins committed against Jesus and to other men due to the Son's sacrifice.
SERMON
DESTINATION UNKNOWN - LOVING GOD AND LOVING THE CHURCH
By Rev. Dr. John T. Mathew, Canada
Consecrated Christian formation of one's disposition is all about growing in the grace of God, becoming more like Jesus, learning to live a holy life and increasing in love for God for all God's creatures. The community that Jesus expects for his disciples is a gathering of healed people blessed to enjoy an abundantly dynamic life. Exhortation of Jesus to follow Him means to take up the Cross and follow Him.
POEM
THE MORGUE
By Aju Tharian, New Jersey
The word morgue is scary to most of them
Although there are many, who aren't scared too.
If not for the Morgue,
where can we store the dead?
SYNOPSIS-SERIES
SYNOPSIS FOR MEDITATION-JULY
By V. Rev. Thomas P. Mundukuzhy Cor Episcopa
Seventh Sunday After Pentecost : St. Mark 3:20-30
Eight Sunday After Pentecost : St. John 6:47-59
Nineth Sunday After Pentecost : St. Luke 14:7-11
Tenth Sunday After Pentecost : St. Matthew 18:1-4
MALAYALAM SECTION:
ARTICLE [MALAYALAM]
A SONG-OF-BOW OF DAVID
David was a man of excellent spirit. He was very generous to Saul, his sworn enemy. Charity teaches us to make the best we can of every body and to say nothing of those of whom we can say no good, especially when they are gone. David made his lamentations into poem to make it more moving and affecting and for Israelites to sing. Holy Qurbana, our life, marriage these all are mysteries and we are singing the songs-of-bow during these mysteries of our life.
ARTICLE [MALAYALAM]
MY GRACE IS SUFFICIENT FOR YOU - CHAPTER 6
SOME IMPORTANT GOSPEL PORTIONS
By Fr. Dr. K.M. George And Mrs. Mariam Philiph George
Seek not what you will eat and what you will drink, and do not keep worrying. For all these things the nations of the world eagerly seek; but your Father knows that you need these things. But seek His kingdom, and these things will be added to you. Do not be afraid, little flock, for your Father has chosen gladly to give you the kingdom.
ARTICLE [MALAYALAM]
THE DECEITFULNESS OF RICHES - PART 2
By H.G. Geevarghese Mar Osthathios
The King Ahab was discontent with his possessions and he desired to add to it. Discontent is a sin that is its own punishment and makes men torment themselves; it makes the spirit sad, the body sick, and all the enjoyments sour; it is the heaviness of the heart and the rottenness of the bones. The deceit of riches had made the king to covet neighbor's property and it led him for a murder. Gehazi's sin was the love of money, which is the root of all evils. Coveting worldly wealth, have erred Gehazi from the faith and brought devastation for himself.
POEM [MALAYALAM]
JESUS COMING
And as they were gazing intently into the sky while He was going, behold, two men in white clothing stood beside them. They also said, 'Men of Galilee, why do you stand looking into the sky? This Jesus, who has been taken up from you into heaven, will come in just the same way as you have watched Him go into heaven.' Behold, He is coming with the clouds, and every eye will see Him, even those who pierced Him; and all the tribes of the earth will mourn over Him. So it is to be. Amen
POETRY [MALAYALAM]
PSALMS 90, 91 AND 94
Before the mountains were brought forth, or ever thou hadst formed the earth and the world, even from everlasting to everlasting, thou art God. Thou turnest man to destruction; and sayest, Return, ye children of men. He that dwelleth in the secret place of the most High shall abide under the shadow of the Almighty. I will say of the LORD, He is my refuge and my fortress: my God; in him will I trust. LORD is my defence; and my God [is] the rock of my refuge.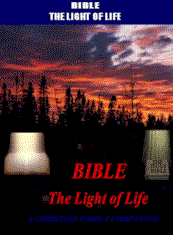 'The Bible
Light of Life'
[A Christian Family Companion]



INDIAN CHRISTIAN ORTHODOX NETWORK


THE CHRISTIAN MIND SERIES [CMS] AND THE TRACI-FOCUS
The Christian Mind Series (CMS) was founded in India, more than a decade ago, by Rev. Valson Thampu, with a two-fold purpose:


To highlight the contemporary relevance and power of the biblical faith.
To promote the discipline of thinking biblically on all aspects of life.


Recently, the CMS took a leap forward in its outreach by entering into a partnership with the FOCUS Movement, a movement devoted mainly to serving the spiritual needs of Indian Christians in Diaspora founded by Dr. Zac Varghese and Mr. Mathew Kallumpram.
Warsaw (ENI). A senior Romanian Orthodox archbishop faces possible defrocking for receiving Holy Communion during a Catholic service. "Orthodox and Roman Catholic churches have a theological dialogue, and such actions can only discourage this," said Constantin Stoica, a spokesperson for the Bucharest patriarchate of the Romanian Orthodox Church. Metropolitan Nicolae Corneanu of Banat is to face his church's governing Holy Synod in July to explain why he received Communion during the dedication of a new Greek Catholic parish church in Romania. [414 words, ENI-08-0506]
Courtesy to ENI
New York (ENI). The US religious landscape is far more nuanced than many might have believed, according to a survey detailing a broad range of US religious, social and political beliefs. One finding is that most people in the United States, including evangelical Christians, are not particularly dogmatic about their religious faith. About 83 percent of what are called mainline, or traditional, Protestants believe that different faith traditions can lead to salvation or eternal life. The Pew analysts said, however, they were surprised, even startled, to learn that 57 percent of evangelical Christians believe that different faith traditions can pave the way to eternal life, and that 53 percent of Evangelicals see the validity of multiple ways of interpreting a particular faith. [445 words, ENI-08-0499]
Courtesy to ENI
Shillong, India (ENI). India's first Christian university says it is pursuing a unique agenda in its goal to provide quality job-oriented education that will also meet the needs of the healthcare and social service work of the churches in the world's second most populous nation. "Though we [the churches] have been pioneers in the field of education running hundreds of colleges, we could not devise courses that we needed most," said K. M. Shyamaprasad, chancellor of the recently-founded Martin Luther Christian University based at Shillong, the capital of India's northeastern Meghalaya state [454 words, ENI-08-0471]
Courtesy to ENI
Bangalore, India (ENI). Church leaders have expressed concern over mob attacks on religious targets in the southern Indian state of Kerala whose own tourism department promotes it as "God's own country". Spiritual personalities of all faiths including Christian, Hindu and Muslim have been under intense police and public scrutiny since May following the arrest of a high-profile Hindu astrologist in early May on allegations of sexually abusing young girls in orphanages he ran. [365 words, ENI-08-0459]
Courtesy to ENI
Bangalore (ENI). The leader of the Christian Conference of Asia has told Hindu religious leaders, meeting to discuss HIV/AIDS, that the pandemic is a challenge to faith groups to put their beliefs into practice. "HIV/AIDS continues to be a critical test of our religious faith and practice," said Prawate Khid-arn, chairperson of the Asian Interfaith Network on HIV/AIDS, and general secretary of the Asian Christian conference. Prawate was addressing the 1 June inaugural session in Bangalore of "'Faith in Action", said to be the largest-ever gathering of Hindu religious leaders to discuss HIV/AIDS. [440 words, ENI-08-0431]
Courtesy to ENI
YOUR HELP REQUIRED FOR THEM
DIVINE CHILDREN'S HOME - TRIVANDRUM
| | |
| --- | --- |
| | Divine Children's Home is a warm caring for the destitute and neglected children of Thiruvanathapuram city and around. Mother's of many of these children are serving long time imprisonment in the Central Jail of Thiruvanathapuram. This Home is intended to nurture, protect and care the destitute children who are left in the streets and also children from poor and broken families. Started as a caring work for an abandoned child of a lady condemned to imprisonment, by the compassionate hands of a mother by name Alice, now the institution had expanded in its scope. Divine Children's Home is now a sanctuary for twenty-four destitute children who are either orphans or whose parents are mentally or physically incompetent to work after their children. |