DEVOTIONAL MESSAGE
REPENTANCE AND DEDICATION
H.G. Thomas Mar Athanasios Metropolitan
Diocesan Metropolitan of Chengannoor Diocese
Malankara Orthodox Church

Repentance and dedication occupies a prominent position in the formulation and composition of the Eastern Liturgical Practice and Worship. Repentance is the need and requisite of a repenting sinner and it is response to the Kingdom of God. The repentance and conversion of sinners on earth are matter of joy and rejoicing in heaven. Repentance is primarily a change of mind, heart and way of thinking.

COVER MESSAGE
THOUGH DIVIDED, WE ARE ALL ONE IN CHRIST
By Dr K.C.Nainan, Atlanta, Georgia, U.S.A

Very early churches were mainly centered on the person of Christ and His teachings, and the teachings and instructions of apostles and disciples of our Lord. Preaching of the gospel was the main and most important goal of early Christian leaders in addition to charity work among the poor and needy people. We have lost the purity and simplicity of the early churches.

ARTICLE
FULLNESS OF LOVE [PART 2]

By Rev. Dr. Valsan Thampu

The only way to ensure that we reach the destination according to Jesus is to engage the fullness of all that has been revealed to us as the will of God. Whatever is partial is a pitfall on this path. According to His own affirmation He came so that all people may have life in the fullness. Love has the power to transform human beings, create the very foundation of peace, and change societies.

ARTICLE
CENTENARY OF THE 1910 WORLD MISSIONARY CONFERENCE:
EDINBURGH 2010 - WITNESSING TO CHRIST TODAY - PART 1

By Prof. Dr. Zac Varghese, London

The centenary of the 'World Missionary Congress' held in Edinburgh in 1910 has initiated a large number of workshops, seminars, reflections, reviews, and publication on mission. There has been enormous paradigm shifts in our understanding, emphasis, and praxis of Christian mission over the last twenty centuries. Christian mission requires a new understanding and reflection in every age.

SYNOPSIS-SERIES
SYNOPSIS FOR MEDITATION-JULY
By Late V. Rev. Thomas P. Mundukuzhy Cor Episcopa
Seventh Sunday After Pentecost [St. Mark 3:20-30]
Eighth Sunday After Pentecost [St. John 6:47-59]
Ninth Sunday After Pentecost [St. Luke 14:7-11]
Tenth Sunday After Pentecost [St. Matthew 18:1-4] MALAYALAM SECTION:
ARTICLE [MALAYALAM]
THE FAMILY OF ISAAC

By Rev. Fr. Dr. T. J. Joshua - Orthodox Theological Seminary, Kottayam

Isaac was the obedient son of Abraham and obeyed him even to be sacrificed in mount Moriah. He led a prayerful childhood and youth hood. Isaac used to meditate and pray in solitary field and by those divine exercises by which he could converse with God. After marriage Isaac and Rebecca did not have children for twenty years. They prayed earnestly to God and God gave them children. But during old age Isaac and Rebecca kept a bad tradition to treat the children in partiality.

ARTICLE [MALAYALAM]
MAN OF GERASENES WITH AN UNCLEAN SPIRIT

The healing of the Man of Gerasenes with an unclean spirit by Jesus was the act of bringing an unconscious man to his conscious state. Once he was of conscious state the man used to live in the cemetery, making noise aimlessly, injuring himself, naked and uncontrollable. Once Jesus brought him to consciousness he became a changed man. The design of Christ's gospel is to expel unclean spirits out of the souls of people.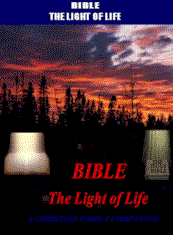 'The Bible
Light of Life'
[A Christian Family Companion]



INDIAN CHRISTIAN ORTHODOX NETWORK



Kochi, India (ENI). Road building may usually be an issue for civic groups but Roman Catholic bishops in Kerala have joined a political debate on how much the state's roads should be widened in order to create better highways on a densely populated strip of land. "The church has always stood for the development of the land, and we will encourage our people to make sacrifices for it [the widening of roads]," the Kerala Catholic Bishops' Conference said after a meeting, attended by bishops from 30 dioceses. Kerala contains India's most concentrated pocket of Christians, who number nearly seven million among the state's 36 million people. [550 words, ENI-10-0407]
Courtesy to ENI
Hong Kong (ENI). Asian human rights advocacy groups say the recent stoning to death of an Indian couple after one of them was deemed to have married someone from the lowest caste is a is a "grim reminder" of how strong the caste system still is in the world's second-most populous nation. The Hong Kong-based Asian Human Rights Commission said in a message sent to ENInews on 28 May that the death of Swapna Reddy, raised in a Hindu upper caste family, and her husband Sunkari Sriniwas offers more proof of, "the stark reality of the continuing practice of caste-based discrimination and caste prejudices in India". The Asian commission said the couple was stoned to death on 26 May following strong opposition by Reddy's family to their marriage. The husband, Sriniwas, was a Dalit, people once deemed to belong to the "untouchable" caste. Six people were arrested after the slayings, including the parents of Reddy, according to the online news site India-server.com.India has enacted la! ws to counter caste-based discrimination that dates back 3000 years, but the AHRC said, "The effect has been only symbolic. [630 words, ENI-10-0383]
Courtesy to ENI