DEVOTIONAL MESSAGE
JESUS SAID "EPHPHATHA!" THAT IS, "BE OPENED"
Rt. Rev. Abraham Mar Paulose Episcopa
Diocesan Bishop of Quilon Diocese
Marthoma Church

The creator sighed and groaned displaying His concern for the deformities of the creation. Jesus commenced to restore the perfection of creation in its original form through the Kingdom of God. Now the Holy Church is delegated and made accountable to groan for the defacement in the world. Church is a movement for the wholeness in a fragmented world. Church is entrusted with the mission of healing, the mission of compassion, the mission of opening which Lord Jesus Christ has commenced in this world as the ascend of the kingdom of God. Development through education should be the enlightening motivation of Christian mission.

COVER MESSAGE
SPIRITUAL POVERTY LEADS TO KINGDOM OF GOD
By Dr K.C.Nainan, Atlanta, Georgia, U.S.A

Anybody who is poor in spirit or spiritually poor can readily inherit His heaven. Anybody who is hungry and thirsty for righteousness has spiritual poverty. Really being humble and repentant with a broken spirit and contrite heart is in the state of spiritual poverty. Humility is the mother queen of all the virtues. God denies the proud and arrogant people whereas He receives and honors humble and simple people.

ARTICLE
FAMILY WORSHIP

By Rev. Dr. Valsan Thampu

Family worship is fast becoming a thing of the past. In the scattered and divided life that we lead, especially in the urban, materialistic context, God gets effaced of the canvas of our family life. Worship involves self-transcendence: an experience of rising above the level of the self. Worship creates the inward logic for human mutuality by reinforcing our other-orientation: our sensitivity and response-ability towards those around us. Love is the life-blood of the integrative role that worship plays in family and social life. This sense of togetherness is the foundation for our capacity for relationships.

ARTICLE
CENTENARY OF THE 1910 WORLD MISSIONARY CONFERENCE:
EDINBURGH 2010 - WITNESSING TO CHRIST TODAY - PART 2

By Prof. Dr. Zac Varghese, London

The Church cannot be a church without giving witness to God's desire for healing a fractured world and a broken humanity. Mission is an exercise in vulnerability as we share God's reconciling purpose, which was achieved by God becoming weak and helpless, particularly in the sacrifice of Jesus of Nazareth. Mission is the place of identification with the marginalized. Theology should not be regarded as the exclusive property of the ordained ministry. The primary mission field is the daily meeting points of ordinary Christians in their extraordinary encounters under the grace of God.

SYNOPSIS-SERIES
SYNOPSIS FOR MEDITATION-AUGUST
By Late V. Rev. Thomas P. Mundukuzhy Cor Episcopa
Eleventh Sunday After Pentecost : St. Mark 6:7-13
Transfigration : St. Luke 9:27-36; St. Matthew 17:1-8
First Sunday After Transfiguration : St. Matthew 21:28-32
First Sunday After Assumption : St. Luke 6:39-45
Second Sunday After Assumption : St. Luke 11:14-23 MALAYALAM SECTION:
ARTICLE [MALAYALAM]
THE FAMILY OF CORNELIUS

By Rev. Fr. Dr. T. J. Joshua - Orthodox Theological Seminary, Kottayam

Cornelius, a centurion was a devout and righteous man and one who feared God with his entire household, and gave much alms to the people and prayed to God continually. He was highly respected by all especially by Jews. He, his family, relatives and friends all were very eager to hear and receive the word of God. Divinely directed by Holy Angel, he invited St. Peter to his house and heard his message. When Peter talked Holy Spirit came to the congregation and gentiles were accepted first to the Kingdom of God.

ARTICLE [MALAYALAM]
JONAH WHO SEEKS SECURITY

By Rev. Fr. John Thomas Karingattil

Jonah sought the security of his own and defied the order of God and fled from His presence to Tarshish instead of caring the security of the people of Nineveh. When somebody seeks the security of his own security many others fall into peril. Lord had prepared a great fish to swallow up Jonah and Jonah was in the belly of the fish three days and three nights. As there was no way of escape Jonah prayed to God. When the people of Nineveh turned to God and raised their eyes to heaven for mercy, Jonah looked toward the city to see its fall.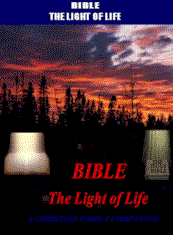 'The Bible
Light of Life'
[A Christian Family Companion]



INDIAN CHRISTIAN ORTHODOX NETWORK



| | |
| --- | --- |
| | The publication of the three volumes of the St. Thomas Christian Encyclopedia of India is a worthy model for the world Churches and an incomparable achievement and contribution of the Church in India, stated Oswald Cardinal Gracias in Guwahati, dedicating the work to the nation. The publication of the third and final volume is something of which the Encyclopedia team can be justly proud, but they should not rest on their oars but must continue their much needed work of service to the Church in India today, His Eminence went on to say. Telespore P. Cardinal Toppo dedicated the volumes to the world Christian community. Light of Life Editor Prof. George Menachery is the Editor of the Encyclopedia. |
Bangalore, India (ENI). Thousands of Christians in India's southern state of Kerala have held a silent protest march in the town of Thodupuzha after attackers severed the arm of a Roman Catholic professor because of an alleged insult to Islam. "We are anguished over the fact there seems to be a deep-rooted conspiracy behind this diabolical act," the Rev. Mathew Kochupurackal, chancellor of the Catholic diocese of Kothamangalam, to which the professor and his college belong, told ENInews. Kochupurackal said that the 17 July silent march represented concern that key suspects are still at large despite the attack having taken place in broad daylight. [ENI-10-0502, 360 words]
Courtesy to ENI
Bangalore, India (ENI). The governor of southern India's Karnataka state, where most of the recent atrocities on Christians have been committed, has paid tribute to the Christian contribution to national life. "We are privileged to have so many Christian institutions to bring dignity of life and knowledge to the poor," said Hansraj Bhardwaj in an 8 July address at the concluding celebration of the centenary of the United Theological College in Bangalore, Karnataka's state capital. Despite accounting for only 2.3 percent of India's 1.2 billion people, he noted that Christians run nearly 20 percent of the educational, primary healthcare and social welfare centres in the country. [ENI-10-0492, 431 words]
Courtesy to ENI
Bangalore, India (ENI). A gathering of women theologians in India has expressed concern over discrimination against women pastors and those with theological training. "Ordination is often denied [to us] on flimsy grounds. Even if we succeed in getting ordained, we are not assigned duties as pastor but are posted as Bible [studies] women and hostel wardens," decried the women in a statement issued following their 22-26 June seminar. More than 40 women theologians and officials from theological colleges from across India took part in the seminar entitled "Feminist Theologies: Stocktaking and moving beyond". It was organized by the women's studies department of Bangalore's United Theological College to mark its centenary. [346 words, ENI-10-0468]
Courtesy to ENI