DEVOTIONAL MESSAGE
ONE RELIGION OF LOVE OR SINGULARITY AND PLURALITY
H.G. Dr. Geevarghese Mar Osthathios Metropolitan
Senior Metropolitan & President of Charity Trusts
Malankara Orthodox Church

God is not faith or hope or conviction. Love is the essence of the compassionate God, while faith is a theological virtue, a gift of God. Divine Love has no boundaries, whereas faiths have boundaries. Love is eternal, uncreated, selfless and global, but faith is relative, personal, the capability of the image of God. Love is social but faith is personal. Love is global but faith is religious, ecclesial, sectarian.

COVER MESSAGE
PASSWORD TO THE KINGDOM OF GOD---NAME OF JESUS
By Dr K.C.Nainan, Atlanta, Georgia, U.S.A

All Christian believers need to be convinced that our Lord Jesus is alive. His Name is the mighty source of power and energy for all His followers who will call upon the Name of Jesus. He is the one and only savior we have in this world. Through His great sacrifice our sins are forgiven. The good news of Gospel has to be proclaimed to the corners of the earth before He comes to judge all nations and people. His Name is the most powerful and only Name by which salvation from sins could be obtained.

ARTICLE
WHY DID JESUS BREAK SABBATH LAWS?

By Prof. Dr. Zac Varghese, London

Christ is more important than Christianity. Rescuing a sheep from a ditch on a Sabbath is of less importance compared to the healing of a man because a 'man is worth much more than a sheep.' Jesus broke the law to respond to a need, he healed these people; he liberated them from bondage and gave them freedom. It was Jesus' mission to heal this fractured world. We are created and shaped for this mission in partnership with God.

ARTICLE
ONE RELIGION OF LOVE - A CALL TO TRANSCEND BOUNDARIES
A CRITICAL APPRECIATION

The author is at pains to search for truth in the spirituality of religions and he believes that none can hide the fact of celebrating love in relationship as the ultimate hallmark of religion. Truth about love can never be buried as love is eternal. The response to the prompting of the Sprit of God is to celebrate the era of convergence in the Third Millennium. Poverty anywhere is a threat to prosperity everywhere.

SYNOPSIS-SERIES
SYNOPSIS FOR MEDITATION-OCTOBER
By Late V. Rev. Thomas P. Mundukuzhy Cor Episcopa
Fourth Sunday After The Exaltation Of The Cross - St. Luke 16:13-18
Fifth Sunday After The Exaltation Of The Cross - St. Matthew 23:1-12
Sixth Sunday After The Exaltation Of The Cross - St. Luke 18:18-27
Seventh Sunday After The Exaltation Of The Cross - St. Matthew 5:21-26 MALAYALAM SECTION:
ARTICLE [MALAYALAM]
PRAYER OF ST. PAUL FOR THE COLOSSIANS

By Rev. Fr. Dr. T. J. Joshua - Orthodox Theological Seminary, Kottayam

In the Prayer for Colossians, St. Paul first appreciated their faith in God and love between each other. His prayer for them was to receive knowledge to know the disposal of God and to work according to the will of God. Again he prays for them to receive strength to attain Godly wisdom and to act according to divine instruction. Christ had shown through His life that the food for life is to fulfill the wish of His Father.

ARTICLE [MALAYALAM]
BRETHREN, LOVE EACH OTHER

By H.G. Geevarghese Mar Osthathios Metropolitan

But now faith, hope, love, abide these three; but the greatest of these is love. Faith, hope, and love, are the three principal graces, of which charity is the chief, being the end to which the other two are but means. This is the divine nature, the soul's felicity, or its complacential rest in God, and holy delight in all his saints. But love fastens on the divine perfections themselves, and the divine image on the creatures, and our mutual relation both to God and them.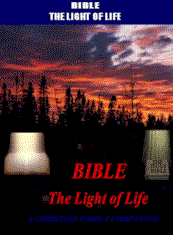 'The Bible
Light of Life'
[A Christian Family Companion]
An elaborate Bible Study Software package to establish a Special Rhythm in Christian Family and for the growing Children
Full text of the Bible.
Commentary for the Books and Chapters.
Context Dictionary

Personal and geographical Performa of Biblical Names.
Daily Worship Programs
Daily thoughts and your thoughts add on facility

Daily Prayers with Common Prayers .
Topic related links with early church fathers
Kids corner. With bible and add on Your stories.

Search engines to search your topics and words.
Family Personal Diary - Enter in...
News and Internet Site Links.

Video Clips
and much more ......

put together with most modern software technology.
--->


INDIAN CHRISTIAN ORTHODOX NETWORK



Bangalore, India (ENI). Church leaders in charge of the tiny Christian community in India's troubled Kashmir region have thanked the government for protecting them during recent violent protests. More than 25 protesters were killed and many more injured when security forces fired on mobs venting their anger on scattered Christian centres in Kashmir following reports that there had been a desecration of the Quran in the United States. "We are thankful to the government for protecting our people and centres with determination," said Bishop Pradeep Kumar Samantaroy, who heads the Church of North India's Amritsar diocese that covers Kashmir. Bishop Samantaroy spoke to ENInews on 21 September after returning from a meeting in Kashmir with leaders and the police chief from India's northernmost states of Jammu and Kashmir, where he thanked them for protecting the Christian community. [398 words, ENI-10-0648]
Courtesy to ENI
Bangalore (ENI). Churches in India are asking for support after Christian institutions became the target of violent protests linked to the reported desecration of a copy of the Quran in the United States. At least 16 people were killed and more than 60 injured in clashes on 13 September with security personnel in India-ruled Kashmir. Most of those people were killed after police opened fire to quell violent mobs, S. S. Kapur, the chief secretary, or highest official, of Jammu and Kashmir state, told media. Kapur said the crowds had come out on to the streets after a "foreign" television station had reported that a copy of the Quran had been desecrated in the United States. Tension had been rising in Muslim-majority Kashmir after the announcement by the Rev. Terry Jones, pastor of a tiny church in Florida, of plans to burn copies of the Quran on 11 September, the ninth anniversary of the terror attacks in the United States. [525 words, ENI-10-0629]
Courtesy to ENI