WISH ALL LOL READERS MERRY CHRISTMAS
DEVOTIONAL MESSAGE
THE VALUE OF TIME
H.G. Mathews Mar Barnabas Metropolitan
Diocesan Metropolitan of American Diocese
Malankara Orthodox Church

Success in life depends on how we make use of time. Time passes away. But the works of time continue to abide. Time is the opportunity to work. It is the opportunity to do good and to grow in goodness. Whenever we get an opportunity to do something good, we shall not postpone it. We have made the best use of time when we are filled with love and when we fill others with love. Everyone in this world has infinite potentialities for good and evil. Let us therefore, make the best use of time, for the glory of God and the benefit of His Children.
COVER MESSAGE
BABE IN BETHLEHEM IS GOD'S "YES"
By Dr K.C.Nainan, Atlanta, Georgia, U.S.A
The Babe in Bethlehem is God's "yes" to His promises, prophecies and plans given in the Old Testament. Depending on where we are in our different denominations, we all celebrate the birth of Christ in different paths of traditions, rituals and church services. God is always love, whether we accept it or not, and this Babe in Bethlehem is our Heavenly Father's love and gift for every human being!
BIBLE STUDY SERIES
THE WOMAN AND THE DRAGON [REVELATION 12:1-6]
By Fr. Dr. Reji Mathew, STOTS Nagpur
The image of the Woman with the Child and the Dragon quoted in the Book of Revelation is a reference to the persecuted Church or the sheep, which belong to Jesus. The whole world is the Church of Jesus. The evil forces try to destroy the Church, by snatching the "child" from it. This happens even today. Whatever happened to Jesus in his infancy is happening to His Church too. The ultimate meaning of life is best expressed in worship, love, sacrifice, personal moral accountability and compassion.
ARTICLE
GRAFT IN OUR HEARTS THE LOVE OF THY NAME
By Prof. Dr. Zac Varghese, London
As I had spent more than forty-five years of my professional life working on various aspects of organ transplantation and transplantation-related clinical research, it is not surprising to find a great attraction to the idea of 'grafting the love of God into our hearts.' Grafting God's love into our being also requires a great deal of preparation and involvement. But we have the God-given advantage of God loving us first from the very beginning of our existence. A very special person is waiting at our door to accept our hospitality.
ARTICLE
MONEY GOD
Where there is material prosperity that makes a sin paradise attracts the fire of the Almighty. The apostles and Jesus have sternly reprimanded against the vice of accumulating money that is moth-eaten in this plane of treachery and self- deceit. "For where your treasure is, there will your heart be also", Mt.6: 21; 1.Ti.6: 7-10. "Take heed, and beware of all covetousness; for a man's life does not consist in the abundance of his possessions", Lk.12: 15. Money, Mammon, is a god, not God.
PERSPECTIVE
THE GOOD NEWS AND THE SONG CELESTIAL
By Mrs. Mini Krishnan Madras
Preaching to simpler people Jesus repeatedly said the perfectly upanishadic statement---"The kingdom of God is within you" (Luke) Vedanta strongly condemns attachment to wealth and warns against it becoming a stumbling block in a person's spiritual growth and a common criticism/misunderstanding about the worship of SriLakshmi is that Hindus worship money/Mammon! There is no earthly or heavenly need to do battle for either of the philosophies.
ARTICLE
LIVING ON GOD'S DESIGN - SERIES 8
WE ARE PARTNERS WORKING IN CHRIST
By Dr. George K. Zachariah, Washington D.C.
As for Titus, he is my partner and fellow worker in your service; and as for our brethren, they are messengers of churches, the glory of Christ. Having partnership with someone and that again the mutual engagement through both depending on the Lord, the true vine, the greater the likelihood of our being fruit-bearing Christians. Christian fellowship outlives personal differences because of the ultimate loyalty to one Master. A spirit of unity and mutual love could become a source of strength for Christ workers.
SYNOPSIS-SERIES
SYNOPSIS FOR MEDITATION-DECEMBER
By V. Rev. Thomas P. Mundukuzhy Cor Episcopa
Visitation Of St. Mary To Elizabeth : Luke 1:39-56
Birth Of St. John, The Baptist : Matthew 1:18-25
Revelation To St. Joseph : Matthew 1:18-25
Sunday Before Christmas : Luke 3:23-38; Matthew 1:1-18
Christmas [Nativity of Our Lord] : December 25
First Sunday After Christmas : Matthew 2:9-15; 19-23
MALAYALAM SECTION:
ARTICLE [MALAYALAM]
DISTINCT DELEGATIONS
King has his delegation, priest has his delegation and common man has a distinct delegation; everybody got distinct delegations assigned by God. The responsibilities of one should not be mingled with that of others. The commission of each one is distinct. When see God through our worship our attitude in life will be reconfigured. There should fire and smoke in our worship raised from the inner heart. The worshipping place is the venue of blessing and judgment. When the word of God is conceived in us we can not remain inactive as the Holy Spirit stir us.
ARTICLE [MALAYALAM]
CHRISTMAS MESSAGE
By H.H. Basalios Marthoma Mathews II
Christmas is the greatest gift of God given to the world out of His abundant love. God has loved the world so much as to give His begotten Son for the world. Christmas is day God came down to the earth humiliating Himself and rejoined the world to the heaven. Christmas is a sacrifice and offering and was planned from the creation of the Universe. Incarnation of God was not for particular caste or creed, but it was for the entire human and the universe itself. When the Christians celebrate Christ they should offer themselves as a sacrifice for the world.
POEM [MALAYALAM]
HOLY LIFE
Then she will bear a Son; and you shall call His name Jesus, for He will save His people from their sins. Now all this took place to fulfill what was spoken by the Lord through the prophet: Behold, a virgin shall be with child, and shall bring forth a son, and they shall call his name Emmanuel, which being interpreted is, God with us.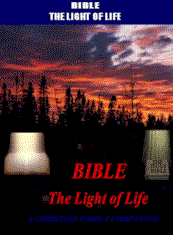 'The Bible
Light of Life'
[A Christian Family Companion]



INDIAN CHRISTIAN ORTHODOX NETWORK


Bangalore (ENI). Christians in India's troubled Orissa state have welcomed an announcement of compensation for places of worship damaged in recent communal violence but have criticised the state government's refusal to postpone a municipal election scheduled for the beginning of December. The Orissa government's change of mind followed a mid-November decision by India's federal supreme court, which directed the state to provide compensation, the archbishop noted. More than 200 churches and 40 religious institutions were damaged in the violence, said Cheenath. Separately, another Christian leader, Bishop Samson Das of the Church of North India, has demanded that the Orissa government postpone municipal elections scheduled in Phulbani, the headquarters of the Kandhamal district where most of the violence took place. [399 words, ENI-08-0965]
Courtesy to ENI
Bangalore, India (ENI). Christians in Kerala in south India say they are stunned by the arrest of two senior Catholic priests and a nun in connection with the killing of a young nun who was found dead in a convent well in 1992. The Rev. Thomas Kottur, the 61-year old chancellor of Kottayam diocese and the Rev. Jose Puthrukkayil, the 56-year old principal of a Catholic college in the diocese, and Sister Stephi, aged 45, appeared in court in Kochi on 19 November. The court remanded them in custody until 2 December, pending further police investigation. [315 words, ENI-08-0937]
Courtesy to ENI
Oxford, Ohio (ENI). As Barack Obama is poised to begin a new era in the history of the U.S. presidency, the role of the Rev. Billy Graham as a private spiritual advisor to successive leaders of the world's most powerful country is drawing to a close. "My father feels like his time and day for that is over," Graham's son, Franklin Graham said, describing his father's health as too weak for him to serve as a counsellor to Obama the way he had for nine other presidents from both the Democratic and the Republican parties. [348 words, ENI-08-0908]
Courtesy to ENI
Bangalore, India (ENI). Thousands of Roman Catholics thronged to the funeral of priest Bernard Digal, treasurer of the archdiocese of Bhubaneswar, following his death two months after an attack during communal violence in the troubled Kandhamal region of India's eastern Orissa state. Forty-seven year old Digal was buried in Orissa's capital, Bhubaneswar, on 31 October, three days after his death in a Chennai hospital, where he had been sent to after first getting treatment in another hospital in Mumbai to which he was airlifted at the end of August, with serious injuries. [426 words, ENI-0885]
Courtesy to ENI
Bhubaneswar (ENI). Church leaders in India have said an inquiry ordered into the case of a young nun allegedly raped in Kandhamal province, amid anti-Christian violence in the state of Orissa, had been instituted only because of media criticism of government inaction in the case. Archbishop Raphael Cheenath of Bhubaneswar, whose diocese covers Kandhamal, said that what he described as belated action by the government of Orissa demonstrated it had been "embarrassed by media reports". The alleged rape of the nun in Konjamendi took place on 25 August, when a mob attacked the 30-year-old nun and a local priest, the Rev. Thomas Chellan. The mob, said by Christians to be Hindu extremists, then paraded the priest naked through the streets together with the nun in torn clothes. [384 words, ENI-08-0820]
Courtesy to ENI
Bhubaneswar, India (ENI). Christians and secular groups in India have commemorated the 2 October anniversary of the birth of Mahatma Gandhi, but attacks against Christians continued on a day that marks the Indian independence campaigner's message of non-violence. More than 100 Christian houses were torched in the troubled city of Kandhamal and nearby district of Boudh in the Orissa district as the nation prepared to celebrate the 139th anniversary of Gandhi's birth. [567 words, ENI-08-0796]
Courtesy to ENI