H.G. MATHEWS MAR BARNABAS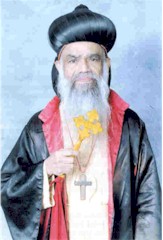 Beloved Barnabas Thirumeni was an incessant writer who wrote out of his mounting thrust of his earnest spiritual desire with a fervent mind towards Lord and a pure conscience. He encouraged and blessed this magazine from its inception. The first publication in 2001 itself was with a blessing letter from Thirumeni. Whenever I requested an Article for publication Thirumeni sent it on the very next day by post. He never sent anything by Email, he always sent hand written or printed Article by post and further I have to type that article. While typing always I perceived a God man behind the words. LOL is very much indebted to dear Thirumeni. We bow before you and tearfully kiss your hands. We compile all these article which are published in different issues as a tribute and dedication to dear Thirumeni.

Please Click the Link below to read the Articles of Thirumeni


COLLECTION OF ARTICLES OF H.G. MATHEWS MAR BARNABAS



- LOL Editor: Dr. Rajan Mathew
DEVOTIONAL MESSAGE [REPUBLISHED]
THE DIVINE BREAD FROM HEAVEN
Rt. Rev. Joseph Mar Barnabas Episcopa
Diocesian Bishop of Delhi-Bombay Diocese
Marthoma Church

Holy Eucharist is manifestation of the resurrection of Jesus Christ. Every Sunday when the holy Mass is consecrated it is a mini celebration of the Easter fiesta. When we commune with Lord's Table, we become a part of the body of the God Almighty. The communion is given for healing of the body and the soul. This is a meal of thanksgiving. The sacrament of Eucharist is a great mystery.
COVER MESSAGE
JESUS IS CALLING
By Dr K.C.Nainan, Atlanta, Georgia, U.S.A
Once Jesus invited all people who are carrying heavy loads put by religious and social leaders to come to Him so that He could give light loads and soft yokes in life which are bearable and He will be a Partner too because He is humble and gentle in spirit. Jesus called out loudly whoever are thirsty to come to Him so that they will be able to drink from Him and they will be filled with Holy Spirit. Our Lord is calling all the people in the world to come to Him for the gift of salvation and Holy Spirit through faith and sincere confession.
ARTICLE
AN AMAZING SPIRIT OF CARING AND SHARING
By Prof. Dr. Zac Varghese, London
The most unusual accidental coincidence of natural and man-made disaster in Japan questions our unshakable faith in science and technology and makes us painfully aware that technologies that enable man to create new lifestyles carry the potential for self destruction. The moder huge structures creates ecological imbalance, pollution and climate change. It is time for us to have the humility not to build our own towers of Babel. We need the humility to think that we own nothing, but we are custodians of everything. This custodial responsibility is necessary to care for this wounded and broken world.
ARTICLE
JOURNEY OF FAITH
Faith is being sure of what we hope for and certain of what we do not see. Faith can never be without action, Faith and actions works together, without action faith is considered to be dead. Without faith it is impossible to please God. But the Word of God says, Fear not, for ?I will be with you always even to the end of the world?. Let us cling on this promise of God that in every situation or in every trial, God is always with us. Obeying God without getting any promise?Walking the Way of Faith without receiving any Promise. There comes the real test.
ARTICLE
ST. GEORGE : A CHRISTIAN HERO FOR THE MODERN WORLD
After the saints and holy people of the New Testament, Saint George (Giwargis Sahado) is perhaps the most popular holy figure in Christianity. Saints of our Holy Church are heroes who instruct us in the fullness of hope, faith and love. According to tradition, St. George can restore sanity to the insane. St. George can be looked as a hero to show how far we can go in our faithful actions in this world. May the saint and the hero pray for us and help us.
ARTICLE
GOD OF LIFE - LEAD US TO FORGIVENESS AND RECONCILIATION
The ecumenical calling of the Church is to build just societies by participation in the struggles of the people for human dignity. The ultimate goal of peace making is to build a community of communities for the glory of God. Truth telling is an essential ingredient for the reconstruction of the community. The Church as reconciling community should be understood against the background of a broad biblical vision of God?s reconciling and peace making mission.
BOOK REVIEW
?ORMAKALUDE THERUVEEDHIYIL?
By Prof. Dr. Zac Varghese
(Autobiography of Rev. Dr. M. J. Joseph, in Malayalam, CSS, Tiruvalla)
SYNOPSIS-SERIES
SYNOPSIS FOR MEDITATION-MAY
By Late V. Rev. Thomas P. Mundukuzhy Cor Episcopa
New Year, Circumcision; St. Basil, St. Gregorios
Lent V: The Bent Woman : St. Luke 13:10-17
Lent VI: The Blind Man : St. John 9:1-41
40th Friday of Lent: St. Luke 4:1-13; Matthew 4:1-11
Lazarus Saturday: St. John 11:1-46
Palm Sunday: Matthew 21:1-17; Mark 11:1-11; St. Luke 19:28-34; St. John 12-19
Passover : St. Luke 22:14-30; St. John 6:41-63
Good Friday: St. Matthew 26-27; St. Mark 14-15; St. Luke 22-23; St. John 18-19
Good/Great Saturday: St. Matthew 27:57-66; St. Mark 15:42-16:1; St. Luke 23:50-56; St. John 19:31-42
Resurrection Sunday: St. Matthew 28:1-20; St. Mark 16:1FF; St. Luke 24:1FF; St. John 20:1FF
First Sunday After Easter: St. John 20:19-31
Second Sunday After Easter: St. John 21:1-14
MALAYALAM SECTION:
ARTICLE [MALAYALAM] - REPUBLISHED
CRISIS, FOR THE PROSPERITY OF GOSPEL
By H.G. Yoohanon Mar Chrysostomos Metropolitan
Hardships and sufferings in our life should not cause for desperation, and God man should not get stumbled on that; instead it should happen for the prosperity and enlargement of Gospel. The persecutors cannot imprison the word of God. St. Paul considered his life was Christ, and his death was gain. It is the undoubted character of every good Christian that to him to live is Christ. The glory of Christ ought to be the end of our life, the grace of Christ the principle of our life, and the word of Christ the rule of it.
ARTICLE [MALAYALAM]
FATHER ABRAHAM - PART II
By Rev. Fr. Dr. T. J. Joshua - Orthodox Theological Seminary, Kottayam
Father Abraham was a prayer Warrior. Intercessory prayer is an important part of the prayer life. The prayer should be selfless. Abraham prayer is a model for our prayer life. Abraham's prayer for Sodom is an amazing revelation of the faith of one man in the justice of Almighty God and an incredible boldness of a mere human before the Creator of the Universe. Also we get a lesson from family life of Abraham that the marriage life should be maintained pure and trustworthy.
ARTICLE [MALAYALAM] - REPUBLISHED
WEALTH : FOR JUSTICE AND GLORY OF GOD
By Rev. Fr. Kurien Varghese Chandanappally
Abundant wealth will not give peace and joy in our life. Exceeding dependence of wealth in our life lead us into devastation. The wealth has three defects, which detrimentally affect our spiritual life. Wealth makes man selfish, shatters man to the earth and it creates a false sense of independence. Our attitude towards wealth is very important in spiritual journey. We should not keep vain confidence in our wealth; instead do good with what we have.