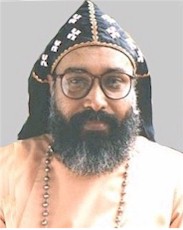 RT. REV. ISAAC
MAR
PHILAXENOS
EPISCOPA
In order to refine the human, to reinstate him to the original order or to console and guide him in his world voyage, God continue to ask man certain great but short questions. In fact these short questions are the greatest in life though it is short in text. When the man goes astray from the fellowship of God, God call him and ask, "Hey Man, Where are you?" When the first human parents Adam and his wife heard the voice of the Lord God walking in the garden in the cool of the day, they hid from the presence of Lord God amongst the trees of the garden. When the man went away from the fellowship and company of God, God called him personally and enquired his whereabouts. The startling question with which God pursued, the so far friend and favorite of God, Adam and captured him: Where are you? Not as if God did not know where he was; but thus he would pursue the walk of the man. This enquiry after man is to be looked upon as a gracious pursuit of the Good Shepherd, in kindness to him, and in order to his recovery. The pointed question and our answer are meant to cut through our hidings, evasions, inactivity and self-deceptions in allegation for a reason to be afraid of approaching to God.
God commissioned man with some responsibility to his brothers. When the man forget about this responsibility and plan to ruin his brother for temporal benefits, God ask him the next question, "Hey man, Where is your brother?" A charitable concern for our brethren, responsible as their keepers, is a great duty and mission, but is generally overlooked or neglected by us. Those who are unconcerned in the affairs of their brethren, and do not take any care of them, while we have opportunity to do good to them, in effect, speak Cain's language.
When we go deviated from our true faith path or go out of the way of our duty God ask us the next question: "Where do you go?". God suffers and forgives who are out of the way to wander awhile, when they see their folly they may be the better disposed to return. The messenger of Lord in the wilderness stopped Hagar when she ran away from her mistress, gave her and her child food and water and set her all right in the right path of returning to her mistress.
Next we look into an appeasing question by our Lord while our heart is deeply pained. Maria stood at the tomb of Jesus weeping, which bespoke her affection to her Master. Our Lord's compassionate enquiry into the cause of Mary Magdalene's grief "Woman, why do you weep?", stands as great hope in our sorrowful life on earth. Many of the floods of our tears would dry away before such a search as this by our Lord and lead us for the cause to rejoice.
It is great failure for the Church and its faithful who are called and commissioned to be vigorously active, to run away from their entrusted mission. 'What is the use for me?', ' Is it possible by me?', 'I am unsuitable for this efforts.'; these are the thoughts which govern even the contemporary Youths. No body is willing to express courage to fulfill their commission. This is a pathetic state of the inactivity of the Church. Contemporary men and women are prone to look for short-term benefits, temporary relief and comforts and even churches are tuned to that effect.
In the First book of Kings we see the great prophet, who was afraid and arose and ran for his life and came and took shelter under a juniper tree in wilderness. Being wearied with his journey, Elijah wished he might die and prayed Lord to take away his life for he thought he is not better than his fathers. He pleads, 'It is enough. I have done enough, and suffered enough. I am weary of living.' The anointed prophet of God was looking for a temporary relief with one piece of bread and meat. But God's plan with him was some thing great and He did not allow the prophet to be inactive. We have him again absconding, and driven into obscurity, at a time when he could lead Israel into reformation from their insincerity and inconstancy. God conversed with him, and manifested Himself to him, heard his complaint, directed him what to do and encouraged him. God arranged for him miraculous food and water for temporary relief and warned him of the long distance he should walk through. The hands of Elijah were strengthened by Lord and made him a powerful man to an extent to bring fire and water come from heaven at his prayer. Eventually he could return out of banishment and the powerful Elisha joined him as a disciple.
Those who are on God's mission must rise and stir themselves to be vigorously active. Initially we perceive a delinquent man in Prophet Jonah. Lord God honored the prophet Jonah, in giving him a commission to go and prophesy against Nineveh. Jonah wanted to flee away from his commissioned mission. Desirous to get away from the presence of the Lord, Jonah traveled in a different direction against the command of God. God pursued him and captured him. Jonah answered the Captain of the wrecking ship; 'I fear the Lord Jehovah; that is the God I worship, the God I pray to, even the God of heaven, the sovereign Lord of all, that has made the sea and the dry land and has command of both.' The miraculous preservation of the life of Jonah in the belly of a fish was the great care of God for the further services of Jonah.
Let the great courage and reaction shown by a Swedish tourist couple while they were stabbed and seriously injured at the Thekkady resort area in "God's Own Country", Kerala, be a good model for us to view our life with a positive outlook. When the press people visited the ailing couple in the hospital, they replied, "We do not have any hatred for the people of Kerala for this cause. This is only an incident which could have happened any where else."
The ready way is not always the right way. Those who quit their temporal interests for securing the spiritual welfare will be gainers at last. God knows what He designs us for, though we do not know. With all trials on our voyage for His mission He will take care for us and we will be furnished for them with grace sufficient.