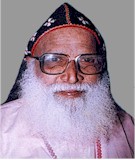 MOST. REV. PHILIPOSE
MAR
CRYSOSTUM
MARTHOMA METROPOLITAN
He has showed you, O man, what is good. And what does the Lord require of you? To act justly and to love mercy and to walk humbly with your God. [Micah 6:8]
What is good? Whatever we deem good in this world are not always perfectly good. Everything in this world has been blemished with the possibility of evil. At least there is a small source of evil in everything existent in this universe. God is the only one who is truly good and all goodness is from God. Whatever we mean absolute goodness, it is only in God. When a man came to Jesus and asked, Good Master, what good thing shall I do, that I may have eternal life? Jesus said to him, "Why you call me good? There is none good but one, that is, God." In the referred Scripture portion, the Good God require of us, three things.
The Good God require of us to act justly:
God is just and righteous. He loves and seeks for righteousness and justice. What is justice? The whole concept of justice demands to act according to the needs of the individuals in the society. Justice is not something we take for granted to treat or provide to all in the same manner. Justice involves the function of our understanding and assumptions of the needs of each one. Justice looks for a working pattern for the growth of everyone. The food and care needed for an infant baby and a five-year old grown-up boy greatly differ, though they are the children of same parents. The needs of an old or diseased exceedingly differ from that of a whole and healthy. Justice is understood to mean what is needed, right, fair, appropriate or deserved. It insures to help each one for their whole growth and achievement of their full personality. That is the contemplation of justice and that is the need of the society.

Due to the Tsunami, many people became homeless. Many are struggling for want of food. Satisfy the needs of these needy people. Give house to the houseless. Give food to the hungry. Then only the justice of God can be established in this world. A justifiable endeavor consolidates the needs of the people empathetically, finds remedies for their wants and act for the benefits of the society. The more the need of a place or a person, the more deliver them help and solace.

The Good God require of us to love mercy:
Mercy is the comprehension of the needs of our neighbours, before they themself implore. Satisfy their wants and equip them to attain their aspirations. Our love to our neighbours is revealed in the mercy that we show to them. Accept, care and upkeep the marginalized ones of our society. The people who were affected by the Tsunami were the ones who lived with their own efforts just like any of us. They were catering our needs also. Now they became helpless and they deserve help. They lost everything. They really need help from us. By helping and uplifting those who are marginalized and relegated in the society, we are bestowing mercy emerged out of the love of God in us.

The Good God require of us to walk humbly with Him:
The relationship with God is the substance of our life. Those who alienate with God, alienate with everything. Everything is bonded together in the power of God. As St. Paul tells in his epistle, all things are from Him and through Him and to Him and all things, both which are in heaven, and which are on earth will be gathered together in Him. Man is not a stranger to God. Life becomes meaningful only if we walk very close to God with humility. When we walk away from God, peace and serenity fade away from our life.
If we analyze the problems of the contemporary society we notice that everything is caused by divisions. The Churches divide, institutions divide, commercial organizations divide and even family divides. All new organizations are formulated out of dissidence and rebellion. Fellowship, being the union with God, how it can dissent and divide to give way for new fellowships? Marriage is a physical and spiritual union between a man and a woman. But now divorce is a growing problem of our society. In my view, there is only one panacea for the problems of the society. The absolute cure of all complications is that man should turn towards God who bonds everything together. 'I in them and You in Me, that they may be perfected in unity': this is what Jesus intended and prayed to His father.
All the humanity should turn towards God. We should become ready to accept everybody whom God had accepted. We should show mercy to all, as God is merciful. We should inherit the Godly attributes of goodness, justice, love, mercy and humility. All our resources and the gifts received as the providence from God should be deployed for the Glory of God, uplifting of the poor and for the creation of our nation.