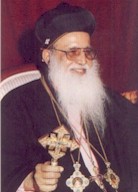 H.H. BASALIOS
MARTHOMA MATHEWS II
CATHOLICOSE OF THE EAST
Dearly beloved in Christ,
I would like to deliberate here of two persons described in the Bible during the birth of Jesus Christ. The first one is Simeon. There is a very a important traditional story behind this Simeon. He was just and devout, waiting for the consolation of Israel and the Holy Ghost was upon him. Simeon was a Scribe. The job of Scribe is to maintain the scripture, read it, make copy of it and make it available. The Holy Scriptures were kept as rolls that time. Simeon was engaged in this job. In God's temple, there were group of industrious devout people who sit at a holy place and would like to meditate the divine Word of God and get experienced out of it. Simeon was one among them. Once, while he was copying from the book of Isaiah, he noticed in the Isa. 7:14. "...Behold, a virgin shall conceive, and bear a son, and shall call his name Immanuel." This was the prophecy of Isaiah about the birth of Messiah about 700 years before His birth. These are very remarkable and noteworthy words. These are the words you and me should learn attentively, practice, believe and behave accordingly. We are bound to believe it. This word cannot be denied or defied. It cannot be forgotten.
Naturally Simeon found it difficult to conceive the words 'Son of a Virgin'. He had an apprehension about this prophecy of Isaiah. He used his imagination and changed the word 'Virgin' as 'Woman'. The very next day while referring to the text he found the word is changed back as Virgin. He thought it is done by some of his colleagues. Again Simeon changed the word as Woman. To his astonishment, he noticed the word was again changed back as Virgin. Simeon prayed to God, O Lord, reveal me the truth.. reveal me the truth. To his prayers, he received an oracle of a gracious promise from the God. And it was revealed unto him by the Holy Ghost, that he should not see death until he could have a sight of the Messiah, the Lord's Anointed, with his own eyes.
In the Gospel according to St. Matthew, it is written that Joseph, her husband did not want to disgrace Mary and planned to send her away secretly as she was found conceived before they came together. Joseph wanted to protect his would-be wife somehow and refused to make her a public specimen. Joseph did this because he was a man of justice. In the night, the Angel of God appeared to him and told, "Joseph, son of David, do not be afraid to take to you Mary your wife, for that which is conceived in her is of the Holy Spirit. And she will bring forth a Son, and you shall call His name Jesus, for He will save His people from their sins." This is the mystery of the birth of the Son of God. If this part was not there in the scripture we would not have praised God as we do it today. It is the biggest astonishment among the worldly scholars. However, there are many human organs which believe that Jesus is born by a natural marital relationship.
The Book of Genesis, which is written many many years ago, refers to this point. It is mentioned there that the Messiah should be born of a virgin, when it was said that he should be the seed of the woman; so the seed of the woman as not to be the seed of any man. The sign given in the prophecy of Isaiah was also that the Messiah shall be born of a virgin. Bible contains many mysteries and secrets. Bible is the most mysterious holy book in the world. There is no other book in the world which contains such big treasure of the mystery of godliness unfolded.
Just then, when Joseph and Mary brought in the Child, to be registered as it were in the church-book, among the first-born after the custom of the law, Simeon came, by direction of the Spirit, into the temple. The Spirit of God whispered in his ear, "Go to the temple now, and you shall see what you have longed to see.'' He immediately rushed to the Temple and with abundant satisfaction he welcomed this sight: He took the Child up in his arms, he embraced Him with the greatest affection imaginable and with full of joy as it could hold. He proclaimed that he could see the salvation of God with his own eyes. The solemn declaration he made here upon: he blessed God, and said, Lord, now let thou thy servant depart in peace, according to thy word. It was a most honorable testimony borne to the Child by Simeon that this is the Child he and the whole Israel was waiting for. How big a mystery is contained in this incident? This mystery is beyond our imagination. It is divine. It is out of the extents of the human brain. It is the mystery man cannot think of. St. Augustine said; "Spiritual truths are beyond human reasoning." This is for you and me to believe without any reservations.
The second person I would like to depict here is Anna. Anna was a prophetess. She was of a great age, and had been a widow of about eighty-four years. She had lived with her husband only for seven years after marriage, yet she never married again, but continued to be a widow to her dying day, which is mentioned to her praise. She was a resident in the temple abounded in devotions, for she served God with fasting and prayers night and day, always lived a mortified life, and spent that time in religious exercises. Like others, she was also looking for the redemption of Israel. She too came in at that instant when the child was presented, and Simeon discoursed concerning Him.
Here it favors us with the testimony of two special witnesses regarding the birth of the long promised Messiah, one a woman and the other a man. These both show us for what reason we had to rejoice. What is the biggest comfort you can enjoy in this world? Like this Simeon and Anna, to be in communion with God and to keep intimate fellowship with God, with out any breakage of sliding away or any recession, is the biggest fortune in our life. I witness and confess very clearly and specifically this truth to you. Our life will be gratified if we can safeguard our life in the presence of God like that of Simeon and Anna each of a different gender. If this communion is lost, we lost everything. If we fail in it, we fail in everything.
I do not know where I will be during this time next year. Therefore I enjoy the happiness to be with you all. I consider you all as my own children. The divine experience Simeon and Anna enjoyed in the presence of God, their aspiration to see the Lord face to face and their courage to look to heaven are the most enjoyable moments in our life. We are bound to hold the Cross of Christ. While we encounter with the Cross of Christ, we should not severe our relation with Him. St. Paul told whether he is with the body or without the body, he did not want to please anybody except God. He thought it is good to be with the body for the sake of his people. We should read and study the Bible very carefully. We should meditate the Word of God. O' my brethren, you should not loose this. There will be hardships and hindrances in our life. But we should not fail. We should not loose. We have to bear many deserving and undeserving crosses in our life. But we should prepare ourself to any type of cross God gives to us. Our prayers should be to attain the courage to bear all the crosses very happily. When we leave this world we should get the fortune to be in the footsteps of our savior.
What I want to exhort you, out of my cherished love and affection to you, is that you should safeguard your communion with God and uphold your intimate relationship with Him. Preserve that affection which is showered upon you with out any dimness or damage. He sees you, He watches you! God had granted the aged Simeon and the aged Anna a chance to see and enjoy face of God. In the same way let us also get the great fortune to live in the joy and happiness in Him and to conclude our life to join our forefathers in the presence of God with holiness.
God bless you all.