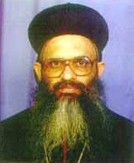 H.G.PAULOSE
MAR
MILITHIOS
METROPOLITAN
Jesus told his disciples "If any man will come after me, let him deny himself, and take up his cross, and follow me." This verse has been taken from St.Mathew 16:24 and this is more like an announcement made by Jesus to his disciples immediately after a rude encounter with Peter. There were sufficient reasons for Jesus to make these words in utterances. The same Verse has been repeated in St.Mark 8:34 and St.Luke 9:23. Prior to these words, we see in the course of a conversation with Peter, Jesus got annoyed with him on account of a suggestion put forward by him regarding the future life of the Son of Man. It is found very noteworthy, the way Jesus relates to Peter to call him as 'Satan'. The reference done by Peter was satanic and Messiah was very vigilant of the purpose and ways of satanic temptations. But Jesus turned and said to Peter, "Get behind Me, Satan! You are a stumbling block to Me; for you are not setting your mind on God's interests, but man's."
It is of utmost important to look into the background of this episode. Once Jesus revealed to his disciples that he would be suffered and killed by the Elders, Chief Priests and Scribes at Jerusalem and will be raised on the third day. To this, Peter speak out as an advice to Jesus; "God forbid, Lord! This shall never happen to you." Suddenly our Lord retorted to Peter; "Get behind Me, Satan!", addressing Peter as 'Satan'. Was Peter really looking out for Jesus, or was he actually looking out for himself? The Philosophy of life, which was kept in Peter's mind, had to be corrected by Jesus. The wrong concepts, they had, were to be changed.
All the disciples were with a notion in their mind that by following Jesus they can make their earthly life a profitable one. Jesus needed to make their thoughts straight. The disciples were well aware of the Power of Jesus. In the heart of heart, they might have thought that they can make plenty of money and possess power of healing, casting out demons, respect from people and all kind of material benefits by the help and partnership with their leader Jesus.. But Jesus revealed his true mind to his disciples regarding the philosophy of life. If Jesus is killed, they would lose all they had hoped for those past three years. Their all-high expectations will be lost forever. Their friends, relatives and neighbors may ridicule them in all aspect. They were very confident that Jesus can survive easily of any troubled situations. Therefore, Peter had to advise our Lord not to happen as he proclaimed his death.
While we try to analyze these verse in detail, we notice three very simple but important messages underlying in this verse, which are very difficult to observe.

1. To deny himself.
2. To take up his cross
3. To follow Jesus unto the last.

SELF DENIAL:
In Hinduism there are for stages of life namely Bhramacharya, Grahasthasrama, Vanaprestha, and Sanyasa These should be practiced in the ascending order off life. In first two stages of life, men will earn all earthly materials and in latter two stages what he earned will be renounced. All Christian fathers in early Church gave up everything and possessed Jesus as their whole and only asset. In English there are two words: attachment and detachment. We put all our effort to earn money, education, employment, respect from others, position, fame and all worldly pleasures for the enjoyment of life. But Jesus refused all material possessions for himself and gave up them to others. He never bothered the future safety of this physical life. He spoke to Pilate in St.John 18:36 "My Kingship is not of this world." St.Paul says in Acts 20:35 "It is more blessed to give than to receive." In St.John 12:24 Jesus says, "Truly, Truly, I say to you unless a grain of wheat falls into earth and dies, it remains alone, but if it dies, it bears much fruit." From all these verses, it is definite that the message of self denial is very strong in the teachings of Jesus.

TO CARRY HIS CROSS:
The disciples of Jesus were with the impression that they were safe under the hands of their Guru in all respects. They never expected an experience of cross in their future life. They knew that the Lord would protect them from all kinds of troubles. No enemy can harm Jesus or the disciples in any situation. In our life we also keep an understanding that if we observe prayer, fasting, regular participation in worship, alms giving, confession, Holy Communion etc. then God will do all favours to us. But this is a wrong notion in Christian life. Jesus himself suffered a lot, though he was innocent and sinless in all respects. St.Mary, John the Baptist, Apostles and all holy fathers of early Church had to suffer, lay down their body and to depart for heavenly abode with great happiness. St.Paul says in Gal 6:14 "But far be it from me to glory except in the cross of our Lord Jesus Christ by which the world has been crucified to me and I to the world." The only answer of innocent suffering in our life is the imitation of our Lord's suffering. In Hindu religion suffering is due to the result of Karma but Islam believes it is fatalism. In Christian life, suffering has got an important place to strengthen our spirituality. Jesus repeatedly spoke this idea in His Public Ministry.

TO FOLLOW JESUS UNTO THE LAST:
Our Lord chose Judas Iscariot as an Apostle among twelve. But he could not culminate the Apostolic Mission. He laid his hands to join with the enemies and betrayed his Guru for death. We also begin our spiritual life with God, through the Baptism. While we grow older, many may follow the wrong path due to the influence of adversaries. As a result, we give up Lord Jesus exactly as Judas Iscariot betrayed Him. If we are firm to live our life with Christ, we will be forced to deny many worldly pleasures. Following the footsteps of Jesus must be the target of our life. Our Lord is the Good Shepard and we are the sheep. We are supposed to follow the footsteps on His guidance. We have to maintain our personal friendship with our Lord uninterruptedly. We read the temptation of Jesus in St.Mathew 4:1-11. Satan asked our Lord to make compromise with him. If Jesus inclined to the temptations, He could not have redeemed the humanity from the bondage of sin. The true sheep will keep their life always in proximity with the Shepherd, Jesus and they will never turn their attention to left or right and they will never back off from the right path. The wife of Lot could not finish her journey because of her turning to the back. She wanted to see once more the beauty of her native place, against the instruction from the Angels. Obedience, Self-control and the desire to finish the aim of life are inevitable to culminate our mission of life.
To sum up the message of the verse we dealt with, that we must be ready to give up all earthly possessions including our life. With out any disappointment let us welcome all persecutions of life for our Saviour Lord Jesus. The bitter experience of this life on behalf of Jesus Christ should bring internal happiness and more devotion towards risen Lord. Thus we can show a true Christian Life, leading a life of self denial., carrying his cross and following his footsteps in our daily life.
PAULOSE MAR MILITHIOS METROPOLITAN
The Malankara Orthodox Syrian Church
Kunnamkulam Diocese.