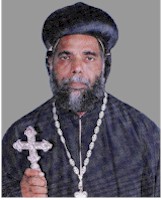 H.G. ABRAHAM
MAR
SAVARIOS
"And in the sixth month the angel Gabriel was sent from God unto a city of Galilee, named Nazareth, To a virgin espoused to a man whose name was Joseph, of the house of David; and the virgin's name was Mary....... And the angel answered and said unto her, The Holy Ghost shall come upon thee, and the power of the Highest shall overshdow thee: therefore also that holy thing which shall be born of thee shall be called the Son of God......For with God nothing shall be impossible. And Mary said, Behold the handmaid of the Lord; be it unto me according to thy word. And the angel departed from her." (St.Luke 1:26-38)
August 15 is celebrated as the assumption of St. Mary. It is the time of lent and prayers to look through our life in perspective of that of Mother Mary, to search out what type of persons we are? With the introduction of ourself and with submission to Lord, we have a lot of things that we should see in our life and search through to find what type of a person I am. This is a very important question. When we are at prayer, when we are fasting, always our mind should be with the quest to find the answer to this question.
Mary, mother of God conquered the world by humiliating her and submitting her to Lord while uttering the words; let it be I am thy servant. How simple we are while the God Almighty power Jesus is living in our heart? If we are without a continued companionship with Jesus what purpose we have in this life? To each events in our life, we should be with the question, how does it happened to my life? This should be our constant prayer: Search me O' Lord, You know my heart, point out thing which you find to cast away in my life, keep me and lead me to to an everlasting life. Our last destination should be to reach to the everlasting life.
Being a Christian it is dangerous for us to accept everything to our life. Before we accept our path we have to check what are acceptable to us. Certain things we can take, but something to be abandoned. What are the things allowable to our heart? Considering all that we achieved in our life, and what are happening in our life, it should be evident to us what are acceptable to our hearts.
In St. Antony's monastry there was a young nun living in the convent for sixeteen years. She approached St.Antony and said that she is an absolutely unhappy person, in spite of being in the monastry for last sixteen years. She said; 'Even though I had been fasting and chanting the prayers throughout the day and night, my mind is disturbed. I read Old Testament and New Testament several times and by-hearted it, but I am not getting any peace in life.'. Antony told her that he would be asking three simple questions and answer the same with sincerity. Antony asked her the first question. How do you consider poverty and richness, what is acceptable to you? She replied, 'No Father, I can not accept poverty, I always wish to be rich. I am living in the convent for sixteen years with only one meal a day and one hour sleep in the midnight, I donot have any peace. What I was before I joined the convent, now also I am the same. There is no change happened to my life.' Antony told her, it is Ok, tell me how you respond to the blessings from curses. She told I like appreciation and blessings but I do not like people talk bad about me or rudely to me. Antony asked a third simple question. How you consider friends and enemies? She replied, I like friendships but I hate enemies, I donot like anybody who is not good to me. Antony told her, I donot know how long you will take forn a change in your life, so that all these things will come to your mind. To have the ncessary changes in her life for the joy in Christ, he adviced her that she should embrace poorty, be happy with abuses and to start loving the emenmies. Christianity expects a different life from the normal accepted way of it.
While making the verdict in the Orthodox Church dispute, the non-Christian Judge had compared the Christians with a Camel, saying that Christians and Camel both kneel down and embrace the burden in their life. He asked, the Christians who are taking the burden being on their knees, why they are approaching the court to set right the matters. Many of us are still with an indisciplined behaviour which doesnot suit to our call and Christianity. The wisdom given to Nazerenes is not known or not achieved among the Christians today. It is a painful contemporary scenario that after the worshipping, people challenging each other, Bishops, Priests and liety joining and becoming groups and sects disputing and quarelling each other, group by group and sect by sect. We all know apparantly what for we are going to Church. Even the young children know that the Church is the abode of God and not the place for yelling and fighting, but many does not adhere to the basic ethics and disciplines in the Church meetings. St. Mary and her life gives us a model, what type of a person we must be, by submitting ourself as the handmaid of God to be be humiliated and to retract from the current situation. We need to think ourself whether we are with multifaces at different situations. When we go to Church, one face, while praying another face, while contacting with people another face, while in the offcice another face. We have to get transfigured. We should become people who are willing to get transfigured.
There was an old man coming to St.Paul's Cathedral every day noontime. The Gatekeeper one day asked him, why are you going to the Church every day, we never see you praying a single word. All the people are coming to pray for their needs, but you come quiet and never seen uttering a single word of prayer. The old man replied that he is a special type of person, he does not know what to pray, but hear a simple word in his mind that Jim, Jesus is living. One day he met with an accident while going back home. He had severe injuries and admitted to the emergency room. The Doctors told him of the seriousness of his injury and their doubt about his survival. He was quite charm and with great joy. He did not have even a single visitor. Nobody was for him to visit. The Nurses asked him how he could be happy in this situation. The old man replied that a man invisible visits him daily during the noontime and tells him that Jesus is living. None of the people could see his special visitor. Whom he was visiting in St.Paul's Church at every day noontime started visiting him at his bed everyday at the same time. Jesus is living in us when we attain the spirit of God, and the life become a renewed one.
Look through the life of the mother who had been fully submitted to the God, she had the most disadvantageous circumstances possible through out her life. The highly favored of God, most blessed among all women, daughter of the royal family, lineally descended from King David, had the deadly fate of the midnight while her husband was planning to divorce her next day. While Joseph and Mary were in Bethelhem, she had the most fearful midnight while Joseph was roaming with her in the downtown near the notorious Galileian sea shore, searching for a room in an inn, as Mary was great with her child, without getting any help or kindness from any corner. On the day while King Herod was beheading all the male children in Bethelhem, Joseph was fleeing with Mary and the new bron child to a neigbouring country for safty. When we we get frustrated while answers to to our prayers are delayed, look at the life of Mary and her dedication to the Lord.