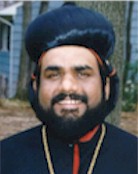 H.G. ZACHARIAHS MAR NICHOLOVAS METROPOLITAN
If we think of a yardstick to measure the spirituality or zeal of worship of a Parish, I usually say that the figures of Sunday attendance on the New Sunday are the measure of the shape and numerical health of the Parish. This may be because of the lengthy lent season and extensive spiritual experiences of the past holy week that exhaust many of the parishioners. So, they think of taking a vacation from the Church for a week. As per Church Statistics, generally we notice a numerical decline on New Sunday for the Holy Qurbana.
But it happens to me that New Sunday or Low Sunday which falls on Octave Day of Easter is a very important day, especially for the Christians of Indian origin. That Sunday is also known historically as St. Thomas Sunday. Apostle Thomas, who is the founder of the Church in India, is remembered each year on Saint Thomas Sunday, which falls on the Sunday after Easter. As per the Church Calendar, all Sundays of the year are determined by the date of Easter. Thomas Sunday is the first Sunday of the liturgical year that takes its character and naming from the current Easter and hence is known as New Sunday as all earlier Sundays having been contingent on the previous Easter. The holy Church has designated the Gospel reading [John 20:19-31] of the New Sunday to commemorate the profession of Apostle Thomas, which recounts the story of Christ appearing to him in order to dispel his doubt about the Resurrection. The confession of Thomas is a great event after the Resurrection of Christ, for the entire Christianity.
Apostle Thomas is most often remembered for his doubting and for having been absent from the first assembly of disciples in the Upper Room where Jesus appeared first after His Resurrection. The other disciples told him that they had seen the resurrected Christ. But he said that unless he actually saw the nail marks in His hands and put his finger where the nails were, and put his hand into His side, he would not believe. Jesus made it a reality and on the eighth day He was with them at their gathering when Thomas was also present. The conviction produced by the removal of the doubt of Apostle Thomas, became deeper and stronger than that of any of the other apostles. Thomas professed his faith in Jesus, declaring "My Lord and my God!", thus being the first to publicly proclaim the two natures of Christ: human and divine. This event is one of the most significant occurrences in the history of Christian Church.
But when I read this scripture passage, I find it very fascinating to me. I find a disciple who does not sustain with the knowledge from others. He was not willing to compromise his relationship with Jesus Christ by listening to other people's narration or experience. Though he was one among them in all their experiences of past three years, he was not ready to accept them because he needed to get convinced with his own experience. So when the disciples told him that they had seen the resurrected Christ, Thomas insisted that he also should see Him. It is interesting to think that if he had not seen the resurrected Christ, what he could have told the people when he came to India. If that was the situation, while he was spreading the Gospel of Christ in India, he would have been forced to admit that he did not see Jesus and his entire proselytization work is based on the words and experience of other disciples.
Though Thomas was not a powerful person among the disciples and he was considered as man subject to despondency, yet he was full of ardent love of his Master. Thomas appears in a few passages in the Gospel according to St. John. After the death of Lazarus, Jesus said, He was going to Bethany. Since Bethany was very close to Jerusalem and Jews of Judea were planning to kill Jesus, the other disciples tried to dissuade Jesus from going to Judea. Thomas showed a very rare character for him standing to the aide of Jesus and said bravely: "Let us also go, that we might die with him". Thomas suspected that they would all die by following Jesus to Bethany, but he insisted that they all go to stand by the side of the one they loved and followed. This reveals that his loyalty and dedication to his Master was unsurpassed by any.
Even now, after two thousand years of this event, we should think and analyze about this great experience of our Father St. Thomas. Whether we should seclude this event merely as a commemoration with observance of ceremonies? That is an easy part of it but the mere celebration of the anniversary, only honors or preserves the memory of a historical event. But what it means to our spiritual life and what effect it brings to our spiritual nature? We should be able to experience and become part of this momentous event inspiring across generations.
When somebody asks about faith, we usually refer to the faith of Parumala Thirumeni, or that of the other saints of the Church, because we think the faith is entrusted only to the saints of the Church. But Apostle Thomas who brought the Gospel to our forefathers and ancestors teach us that the faith is not the experiences of others, but it is the sole experiences of our own. It is important to test what we believe by what we experience. Faith is pruned and fine tuned through experience, implying that our beliefs ought to remain consistent with our experience. There is no truth that will be contradicted by our experience. As Christians, it is of utmost importance that we reconcile our faith with our experience in order to grow in truth and understanding. Only if we have a personal experience and feeling with the resurrected Jesus, we will be able to profess our faith as St. Thomas did by his words; "My Lord and My God."