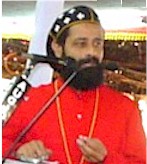 H.G. KURIAKOSE
MAR
SAVARIOUS
Dearly beloved in Christ,
We all are participating in an ecumenical gathering. When we think of ecumenism, it is a matter of fact that, at least around two decades back, it was improbable for a Bishop from a different denomination of Christian Church to address in a congregation of this type. Even though all the Metropolitans of Syrian Christian traditions have a uniform outward appearance as there is no much difference in their dress code, it is a mere reality that they are representing vivid congregations of Christianity. But as we all know, we all bear the vision of same Lord, in all sense. We all confess the same creed of Nyssa and Constantinople. These Creeds are very specifically important matter in our true faith.
In spite of the fact that we belong to Marthomite Church, Orthodox Church, Catholic Church or in any other denomination of Christian Churches, we undeniably proclaim and profess the same true faith of God's Church. This faith is handed over by our Lord through the Apostles and traditionally relayed through generation to generation. Further, we proclaim that the Church is Apostolic in nature, Church is Catholic in nature and the Church is holy. This is the basic characteristic of the Church.
Even though we do not stress on the word ecumenism, as we proclaim the same truth, we all belong to a one unified Church. That is what we repeatedly confess through the creed. Structurally we see diversities, but internally all are one because we all preach about same main theme, Jesus Christ. Whichever denomination of Christian Church we belong to, we do not claim that we believe in different Gods. We all have the same essential doctrine and same sharing of faith in one God.
The real ecumenism is to reach Jesus Christ who is 'The Lamb of God who takes away the sin of the world'. We should capitalize the thought that even though the Churches are vivid, we are the partakers of the same faith and the same paternity. The Church should be able to see the world as one exactly as Jesus had seen the world as one. In a society where we upheld love as the basic value, the religious proliferation should not upsurge. We are called to become the living stones of Christ's Church. The basics of unity is the continuous Grace of Christ. In order to maintain the noble culture of the Vedic heritage of India, we have to learn the lessons of unity. Christ called us to be in communion with another. Our attitude should dictate and reflect a common desire for greater Christian unity. The cardinal ministry of the Church is to reach Jesus Christ.
[H.G. Kuriakose Mar Savarios who was consecrated as a Bishop in Damascus by the Patriarch of Antioch on January 15, 2004 is the Head of the Malankara Knanaya Church. He is the fourth head of the Knanaya Syrian community and successor of Grand Metropolitan of the East, Abraham Mar Clemis who expired in September 2002. Mar Savarios is the only bishop for this congregation.]