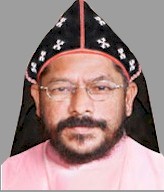 RT. REV. ABRAHAM
MAR
PAULOSE EPISCOPA
"...Jesus went into a Pharisee's house, and sat down to meat. A woman in the city, who was a sinner, ...stood at His feet behind Him weeping...Jesus said, Simon, I have something to say unto you. ...There was a certain creditor who had two debtors: one owed five hundred pence, and the other fifty. And When they were unable to repay, he graciously forgave them both. Tell me therefore, which of them will love him most? Simon answered and said, I suppose that he, to whom he forgave most...Jesus turned to the woman, and said unto Simon, Do you see this woman? I entered into your house, you gave me no water for my feet: but she has washed my feet with her tears, and wiped them with her hair. You gave Me no kiss: but she has not ceased to kiss My feet since the time I came in. You did not anoint my head with oil: but she has anointed my feet with perfume... To whom little is forgiven, the same love little. ..." [St. Luke 7:36-48]
In the above referred Scripture portion, the evangelist St. Luke significantly draws on for us a picture narrative, portrayed as a simple orderly account of an important event transpired in the life of our Lord, Jesus Christ. One of the Pharisees, later we knew his name as Simon, desired to eat with Jesus and invited Him as a guest to his house for dinner. Jesus went into the Pharisee's house, and sat down to meat. As per the later exposure by Jesus, we come to know that the hospitality shown by Simon to his guest Jesus was very casual and not up to the mark according to the then customs of the Jewish traditions. Simon might have known or heard of Jesus as an upcoming leader of Jewish community, and he aspired the company of Jesus either because he thought it would be a reputation to him to have such a guest at his table or because his company would be an entertainment or beneficial to him, his family and friends.
On the other side, we see an infamous woman of the city, who had led a profligate and promiscuous life, learned that Jesus was reclining at the table in the Pharisee's house, courageously entered the house of Simon, uninvited, with an alabaster flask of perfume. Much love, springing from a sense of much forgiveness, caused her tears to pour down upon the feet of Jesus as an unceasing fountain and flood, quite involuntarily. She hastened to wipe them off with the long tresses of her own hair as a slave at her master's feet. With the great sense of gratitude and being overcome with emotion for the divine pardon to her guilty soul, she bent down and kissed the feet of Jesus unceasingly. She opened the expensive alabaster vial and began to anoint Jesus' feet with the costly perfume. This unnamed woman with a sinful reputation was pretty bold to come into the house of a Pharisee with great courage and determination, as she was willing to do anything to express her love for Jesus. Jesus knew her heart and accepted her to continue her downpour of the exposure of her gratitude.
But Simon, who had not formed a definite opinion about the authority and Godliness of Jesus, watched all this happened. Simon, the host of the dinner got annoyed with the actions of this unwanted woman and was shocked by the attitude of Jesus to this whore. Being a Pharisee of self-righteous attitudes, with a critical, judgmental eye, he thought to himself: if this man were a prophet, and if he had known what kind of a woman this is that is touching Him: He wouldn't allow her to do that because she is a terrible sinner. The Son of God who perceive the inner heart and discern the intents of man, said; Simon, I have something to tell you. Simon said; Go ahead and ask it, Lord.
Jesus uses a simple and easily understood parable to illustrate the point: the more we are forgiven, the more we should love. There was a certain creditor who had two debtors: the one owed him five hundred pence, and the other fifty. And when they had nothing to pay, he completely forgave both their debts. Tell Me therefore, which of them loves him the more? Simon answered and said, Oh, I suppose that he, whom he forgave the most. Jesus said to him, that's right, you judged rightly. Jesus turned to the woman, and He said to Simon, You see this woman? I entered into your house, and you gave me no water for my feet. But she has washed my feet with her tears, and wiped them with the hairs of her head. You did not give me a kiss: but this woman since the time I came in has not ceased to kiss my feet. You did not anoint my head with oil: but this woman has anointed my feet with ointment. Wherefore I say to you, her sins, which are many, are forgiven; for she loved much: but to whom little is forgiven, the same loves little.
It was a common courtesy culture of hospitality of the Jewish house that the guests that were invited would have their feet washed by the servant when they entered the door of the house. It was customary to greet their friends in the house with a kiss of salutation. Also it was common to anoint the important person coming to house with oil on his head as a symbol of the joy and a compliment to guest. But Simon did not observe to Jesus any of these common courtesies. But this uninvited woman had put her a step ahead to expose the customary marks of respect and regard to the guest Jesus.
The root of tears, their very first and inexhaustible source, is repentance. This woman did not have any words to say, or dare to say, so she spoke with her tears silently, she greeted Jesus with her unpronounced gesture of kissing, she accepted Him with her wordless anointment. The feelings of regrets and grief in her heart, pressed upon the fountains of tears in her eyes. So the tears are the most sincere expression of a broken heart. In her case, her great sins were forgiven her and she became a woman of extraordinary love: she loved much, for she had much forgiven. On the contrary, Simon had a self-righteous attitude. Jesus had to expose Simon's condescending way of thinking characteristic of the religious elite, judging primarily by outward appearance. He was keeping the mind of condemnation and faultfinding attitude. Simon did not have the insight to view the broken heart of that simple woman, in opposition he was looking only on past life and bad reputation of that woman. Essentially Jesus ended up creating a balanced view by humiliating Simon and lifting up the sinner and installing her as the central figure of the episode not only for the sake of the audience in the house of Simon, but also for the people of entire generations to come till the end of ages. Jesus proved Himself, as He is a friend of sinners and not of sin.
In spite of the rude attitude of Simon Jesus talk him very affectionately and very politely, Simon I have to tell you something. When Simon answers rightly, Jesus appreciates him of his judgment. Jesus was ready to accept Simon for his true judgment as He had come to this world to gain all the lost ones. Jesus does not lessen the sins of the woman. He very evidently exposed the width and depth of her sin. That is why He symbolized the woman as one who is forgiven 500 pence opposite to the one who is forgiven 50 pence. Though Simon had kindly entertained at his table, yet even there Jesus reproved him for what he saw amiss in him, and would not suffer sin upon him.
Salvation is the mission of Christ in this world and it is delivered through the true repentance. Redeemabilty of man is the basis of Holy Bible. The thief on the right side repented and prayed 'Kyrie Eleison'. Jesus told him you would be with me in the paradise. Once he repented on cross for few seconds of his death He get redeemed unconditionally. We perceive three salient notabilities in the attitude of Jesus towards that woman and to all human sinners. It was Jesusí active compassion toward each one of us as sinners.
Reception: When the Simon, the Pharisee began grumbling at the uninvited woman, Jesus received her silently with a warm heart. This was a clear document that He had come to this world not to call the righteous but sinners to repentance. The father of the prodigal son had demonstrated the same reception when his son had come back home. His come-back was not unexpected for the father. He was waiting for a long while for the return of his son and that is why while he was still a long way off, his father saw and identified him though the son was reduced himself to the stature of a beggar. When the son came to his sense he contrasted himself, to his father's servants, who had plenty to eat and plenty to spare. The father wore him the best robe and ornamented him with golden ring.

Affection: In examining Christís relationship with sinners, we see first that the Bible frequently testifies of the richness of Christís overflowing love and mercy toward sinners. Jesus' affection gave much confidence to the woman. His affection towards the woman was not depraving her but was encouraging her to break her heart and submit herself to Jesus in true repentance. The demonstration of the gracious disposition and tender affection of Christ was also silent, and mind spoke with mind with soundless gesture .

Acceptance: With the acceptance, Jesus told her to go home peacefully and that her sins are forgiven. When a sinner repents heaven rejoice. This acceptance is to be widely published and it is a time to rejoice with others. That is why the father of the prodigal did not want to conceal his happiness over repentance and comeback of his son. He called his entire known world and arranged for a feast. This is the way a reception given by heaven to a lost sinner who repent and come back. His actions, representative of God's feelings for repentant sinners, show enthusiastic acceptance, love and joy.
Repentance is not attributed only for person. Repentance needed for the Church, society, Country and the entire world. Pope John Paul took the unprecedented step of apologizing for some of the sins of the Church down the centuries. He had set up the model that repentance is needed not only for the individuals, but also for the Church and society. Jesus brought to men a whole new relationship to God. Here this woman's faith puts her step ahead, and already into that new dispensation of God's grace. Jesus told her, go in peace, your sins are forgiven. Forgiveness is ready from God; there is no hesitation or shortage on His part. Our part is to come with humility and loving submission to Jesus, and to receive the forgiveness He offers by faith.