KCBC Darshanika Vyjnanika Award for 2008 was presented to Chev. Prof. George Menachery by HE Mar Thomas Chakiath, Chairman of the KCBC Media Commission, on 25th January 2009 at POC Auditorium, Kochi (Ernakulam). Chev. Professor Menachery is an esteemed author of Light of Life Magazine and many of his enlightening articles are there in the Archives. The entire LOL family cherishes this honor and extends felicitations.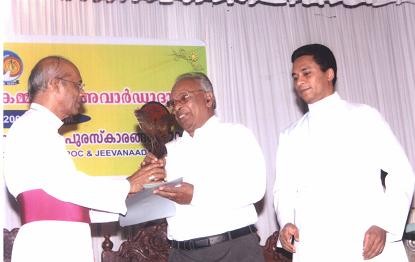 [The Hindu] Kochi. K. Puthussery has won the literary award instituted by the K.C. B. C. Media Commission. Prof. George Menachery has won the Mar Mankuzhikkari philosophical award. Fr. Geo Payyappilly and Elizabeth Raju won the media and young talent awards, respectively.
[Malayala Manorama and Deepika] The Kerala Catholic Bishops' Council's Media Awards 2008 have been announced. A. K. Pudussery bagged the Media Award for his contributions in the fields of the Novel and the Drama. Prof. Chev. George Menachery was selected for the Mar Mankuzhikkary Darshanika Vyjnanika award. Geo Payyappilly obtained the Media Award while singer Elizabeth Raju was chosen for the young talent award.
Rev. Dr. Jacob Kattakkal, O. V. Raphael, Prof. Thomas Kaniyanplavan, Varghese Kanjirathingal, and Abraham Pattani were selected for the Guru Pooja Awards.
A judging committee consisting of the Chairman of the KCBC Media Commission Dr.Mar Thomas Chakiath, Dr. George Irumpayam, Dr. Cherian Kuniyanthodath, Dr. Primus Perincherry, Commission Secretary Fr. Joseph Nicolas had chosen the awardees.