MRS. MARIAM PHILIP GEORGE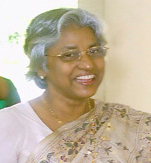 It was a news of profound sorrow about the departure of Mrs. Mariam Philip George on 27 August, 2010. Light of Life was honored by Fr. Dr. K.M. George and Mrs. Mariam Philip George by giving consent for publishing the Prayer Book, 'My Grace is Sufficient for you' ['Ente Krupa Ninakku Mathi'] co-authored by Mrs. Mariam Philip George and so she was part of the Light of Life family. The content of the book witness how she faced the painful realities of mortal life as confirmation of faith in God and that way it became a great inspiration for many to live looking towards the real and eternal life. She clearly upheld in her book that the Christian way is to consider the sickness and pain as a cause for Godly blessings.

So far we are living in the flesh; the physical departure is always painful. The entire Light of Life Family join the sorrow of her beloved ones and offer heartfelt condolence to K.M. George Achen and other members of the family and pray that God in His eternal mercy give the family the strength to cope with, during this hard time. As a memory of her, let us recollect the strong faith, mind and thoughts, endurance, consolation and courage of Mrs. Mariam Philip George through her own writings in 'Ente Krupa Ninakku Mathi' on the link below:



ENTE KRUPA NINAKKU MATHI [MALAYALAM]
BY FR. DR. K.M. GEORGE AND MARIAM PHILIP GEORGE
MRS. K.M. MATHEW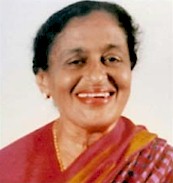 Mrs. Annamma Mathew, popularly known as Mrs. K.M. Mathew, Chief Editor of the Malayalam Women's Fortnightly 'Vanitha', multi-faceted as an icon of Kerala Christian women and had earned her place in the "Healthy Recipes Hall of Fame" expired at 10.30 A.M on July 10, 2003 in a private Nursing Home at Kottayam after a prolonged illness. She was of 81 years of age. She was confined to a wheelchair over the last few years.

Annamma Mathew was born on March 22, 1922. Her father Dr.George Philip was a Civil Surgeon in Madras. She had spent her School and College days in Tamil Nadu. She got married in 1942 to K.M. Mathew, Chief Editor of Malayala Manorama and a prominant public figure in Kerala who is son of Mammen Mappila who became a legendary in News Paper field of the country.

Mrs. K.M. Mathew symbolized the graceful and traditional femininity, which had attracted national and international reverence. Those who were close to knew her called her as 'Annamma Kochamma' as she became a family person to all those who came in contact with her. Mrs. Mathew was well attributed for her simplicity, generosity, humility, spirituality, deep religiosity and wealth of multidisciplinary knowledge. Her relentless Generosity, selfless services for the needy and her commitment to the cause of women caused her to became a prominent figure in the Social and Cultural arena of Kerala. Annamma Mathew was associated with several voluntary and philanthropic organizations.

Mrs. Mathew had authored over twenty books for which the subjects ranged from Cookery, Health & Beauty Care and Hair Styling to Decorations and Travelogue. Her books of culinary cuisine literature were known as the bible for cooking which are authoritative on traditional and exotic recipes. She had uplifted the status of Cooking from chores to an Art and Science. Her name had become legendary in the minds all traditional Keralites.

Annamma Mathew was also instrumental for the social activities of the Kasturba Social Welfare Centre (Kottayam), which is aimed for empowering women. She was also an enthusiast of arts and music. Her mastery in playing violin was enthralling. She was delighted both in Karnatic and Western Music. She was also one of the awe-inspiring forces for the origination of Sruthi, the School of Liturgical Music of Orthodox Theological Seminary at Kottayam. She had also served as the member of the state film award jury.

Mrs.Mathew's works have won her a number of awards including the Rachel Thomas Award (1992), Vigjanadeepam Puraskar (1994) instituted by Ponnara Sreedhar Foundation, and the Nirmithi Kendra Award (1996).

Mammen Mathew, Editor and Managing Director of Malayala Manorama; Philip Mathew, Managing Editor of Malayala Manorama; Jacob Mathew, Executive Editor of Malayala Manorama; Thangam Mammen are the children of Mrs.Mathew.


PROF. K.M. THARAKAN
Well-known Malayalam litterateur, educationalist and former Chairman of Kerala Sahithya Academy, Prof. K.M. Tharakan expired on July 15 early morning 3 O' Clock at Thiruvalla Medical Mission Hospital. Prof. Tharakan was 73 years old. For a while, he was bedridden and under treatment after a paralytic stroke.

Professor K.M. Tharakan was born on October 6, 1930. His father Prof. Puthencavu Mathen Tharakan was a famous poet, Music Composer and Professor of Malayalam Department of Catholicate College, Pathanamthitta. Prof. K.M. Tharakan served as English Professor in many famous colleges in Kerala. Also he was distinguished as a journalist by serving as editor of many Magazines.

He authored many literal Books and many of them received meritorial awards. Kerala Sahithya Samathi Award, SPCS Award, Puthezhan Award, Akshara Award, Dhikshana Award, Sophia Award, Koduppunna Smaraka Award were the laudable awards bagged for the literary works of Prof.Tharakan. His autobiography titled as 'Through the Valley of Mercy' is standing out in all his publications. Altogether he had published 54 literal works. 'She is the real wife', 'Only for You', 'The night of remembrance' are some of the famous novels written by Prof.Tharakan. 'Ultramodern Western Literal Philosophy', 'Malayalam Novel Literature', 'Eternal Mary Magdalene', 'Blessed Basheer', 'Modern Novel Vision', 'Modern Literature Vision' are some of his famous works. In 1991 Prof. K.M. Tharakan was nominated as the Chairman of the Kerala Literal Academy.

Late Rachel was his wife. Mathew Tharakan (Baharin), Dr.Thamari Mavul (Medical Mission Thiruvalla), John Tharakan (Kuwait), Ranjini (Madras) are the Children of Prof. Tharakan. Funeral was done on Sunday, July 20, 2003 at Puthencavu Orthodox Cathedral Cemetery.


FR. MATHAI NOORANAL
SOCIAL, POLITICAL AND SPIRITUAL REVIVOR OF WAYNAD

With sad demise of Fr. Mathai Noornal we lost an amazing personality with courage, exceptional managerial quality, wisdom and the spirit of sparkling entrepreneurship. He was a wonderful self made leader who could create imprints in several social, political and spiritual arenas of the society. Fr. Noornal made his own impacts in Wynad an educationally, socially and financially backward area of Northern Kerala. As a migrant from Muvattupuzha to Wynad more than 50 years ago, Fr. Nooranal made his relentless contributions to the society, impartially. He was involved with many Church and Social organizations. With his own merits and achievements in the social activities, he become very influensive personality in the political and social circle, regardless of political parties or denominations. Educated himself for proficiency in languages, he traveled over India and abroad. He was a member of numerous committees at local, state and national level. His charisma overpowered all the obstacles of being a social and political figure along with his ministry of an orthodox priesthood. His services to the Province of Sultan Battery and Waynad district as whole is unforgettable and his success story there was enviable.
Fr. Nooranal was one of three trustees of the Malankara Orthodox Syrian Church, which has up to approximately two million members in India. Also he worked as President of YMCA. The services done to the Church by Fr. Nooranal were many, in organizing and building of Churches, hospitals, educational institutions etc. Fr. Mathai Nooranal is the name that will figure in the field of higher education of Wynad district as the founder and guide of the first college of the district namely the St.Mary's College, at Sultan's Battery, established in 1965. The college offers post graduate courses in Politics and Chemistry and graduate course in Economics, Politics, Chemistry, Physics, Botany and Commerce. His name also is associated with the development of co-operative movement in the state. Noornalachen will remain in the memory of Wayanad and particularly that of Sulthan Bathery for many generations. He had been the vicar of St. Mary's Cathedral in Bathery since 1951.
Some of highlights of his services are summed up as:
1. Founder and life-long manager of St. Mary's College, Sulthan Bathery
2. Former President of the Sulthan Bathery Cooperative Bank bringing it the award for the best cooperative Bank in Kerala.
3. A member of (one of the three) Cooperative Banks Board national level
4. Priest Trustee of the Indian Orthodox Church
5. Former President of the YMCA
6. Founder, builder and organizer of the Orthodox Cathedral of Bathery
7. Founder and builder of the brand new hospital for the Cathedral that partially completed.
8. He trained many priests in Wynad.
As a person Fr. Nooranal was very forthright and candid. He did what he believed right. In the history of our priests in the 20th century, one could hardly see a person like Noornalachen, who is just unique in all matters. He was a legend. He contested in state Legislative Assembly election in 2001 as an LDF backed independent candidate. A section of the laity of his own church opposed his candidature. But that all did not come in the way of Father Mathai Nooranal's electoral planning. This colourful priest trustee of Malankara Orthodox Syrian Church was pitted against N.D. Appachan of the UDF in North Kerala's Sulthan Bathery. Father Mathai Nooranal's electoral campaign annoyed some Christians because he had the support of the state's Communist-led ruling coalition. Fr Mathai retorted to his opponents: "I am not the first priest in India to fight elections. In 1972, Father Jacob of Karnataka had won from the Dharwar assembly seat. Surely, I too can do it." Nearly a decade ago, the Keralite priest , Fr P.J. Jacob, was elected to the Karnataka Assembly with the support of the Janata Party. Even though the Church supported Fr. Noorannal's election bid, soon after the Communist leaders announced their support for Nooranal, a lay group within his church, the Malankara Orthodox Almaya Association, organized a press conference to condemn his election bid. Eventually the prominent formidable LDF Independent, Fr. Mathai Nooranal failed in hid bid to the UDF Candidate. Fr. Nooranal gained 45135 votes, compared to 68685 votes for N. D. Appachan, a Catholic layman and Congress party leader.
In many ways, Fr. Nooranal's activities in the social and political arena resembled to that of an earlier priest who articulated the church's viewpoint very eloquently and emphatically. He was Fr Vadakkan, the tall Catholic priest whose clamorous voice in support for the anti-Communist agitation, which was eventually, fell into the hands of then Congress party President Indira Gandhi. After a decade Fr Vadakkan was seen in another role, as an ally of the same EMS Namboodiripad. Fr.Vadakkan emerged to politics in service to the community considering Jesus Himself as a revolutionary social and political activist.
Fr.Nooranal is survived with Kochamma, and five sons and their families Mr. George Mathai Noornal CA, Mr.Abraham Mathai Noornal, IPS & IES, Dr. Isaac Mathai, Mr.Samuel Mathai Engineer and Dr.Professor John Mathai Ph D.
We extend our deep sorrow and sincere condolence. May the departed soul of Nooranal Achen rest in peace! May the bereaved family members be consoled and comforted by God Almighty with His everlasting peace that surpasses all human knowledge.
INDIAN CHRISTIAN WEB DIRECTORY [LINKS]
[ ECUMENICAL ] [ ORTHODOX ] [ MARTHOMA ] [ JACOBITE ] [ CATHOLIC ] [ CSI ] [ ORGANIZATIONS ] [ NEWS ] [ MALAYALAM ]
THE CHRISTIAN
LIGHT OF LIFE
PUBLISHED ON FIRST DAY OF EVERY MONTH