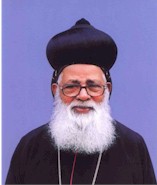 H.G.Geevarghese Mar Osthathios
Diocesan Metropolitan of Niranam Diocese of Malankara Orthodox Church. A Renowned Orator and Writer. Author of many Spiritual Christian Books. HG is the Patron of numerous Charity and Gospel Organizations of the Church. Out of his Charity works and continuous fight against social injustice, he is known as 'Apostle of Love & Justice'.
Blessing on all those who search for a better world.
Beloved brothers, Sisters & Children.
Religion is ultimate concern' according to one of my best teacher Paul Tillich. Hence all those who have ultimate concern on the ultimate Being are religious.
Those who have the quest for the Absolute are human and others are sub -human. Unfortunately many humans are two - legged animals, who want only to eat, drink and be merry. Such Epicureans are increasing in number. They have their selfish, narrow, fundamentalist religions, politics, economics and culture.
Structural terrorism of exploitation, unfair trade, exploits industries, and wrong religions are the cause for the violent terrorism. So, what is the solution? The only basic difficult solution is a shift from many communal gods to one Absolute Social God, for whom there is a hidden quest in all religious and Secularists. May I recommend a small book of mine entitled One Religion of Love as a new theology of Sola amor (Love alone) instead of Sola Labor (work alone) and Sola fidei (Faith alone).
We can have a better world only by a shift from Capitalism and Communism to Welfare Economics of Amarthya Sen of Nobel Prize fame. We must realize the 'Sin of being Rich in a Poor World' (a book of mine now out of print)
A better world will emerge only if we know the ultimate Co - Being , the Social God of Compassionate Allah or the Triune God of all Churches and Advaitic Brahman of Shankaracharya, Ramanuja acharya, Madhavacharya together.
A global religion of Love is freedom of all religions and new religions. To hold on to these new theology or ideology and at the same time to love and respect other theologies and ideologies. The human rights to choose any religion is not the freedom convert others by force or unfair means. Let us move up to One Religions of Love with freedom to belong to any religious faith.
H.G.Geevarghese Mar Osthathios Metropolitan,
Bethany Aramana, Thiruvalla - 1
Phone; +91 0473 601357/603357
OR
St.Paul's Mission Training Centre,
Mavelikara - 3.Phone; +91 479 302473/342709
Mavelikara