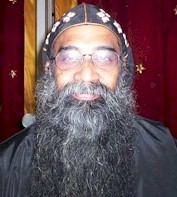 MAR YOOHANON RAMBAN
SUPERIOR
KARUNA NILAYAM
TRIVANDRUM
Scripture Ref:
"And we desire that every one of you do show the same diligence to the full assurance of hope unto the end: That you be not slothful, but followers of them who through faith and patience inherit the promises."
(Hebrew 6:11-12)
The epistle of Hebrews does not mention of it's author, except for a reference in Hebrews 3:7, that the Holy Spirit speaks. There are vivid arguments among Biblical Scholars regarding authorship of this Book. Pauline Authorship is the oldest and widest held and as it was confirmed by early Church fathers like Mar Athanasius, St. John Chrysostum, Golden tongue Mar Ivanios etc., the Christian traditions attribute this epistle to St. Paul.
It is an interesting thing to note about the audience to whom this book was addressed. During the early church, with the proselytization work, many people believed in Jesus Christ and came to Christianity both from the Jewish and heathen traditions. The book was probably written to Jewish Christians who were very enthusiastic during the early time and might have been considering to retract from their new faith and returning to the Jewish Synagogue, may be due to the external pressure and compulsion. To this effect, faith of many had cooled down or got paralyzed. The author seeks to strengthen and reawaken these believers in the truth.
[Paradoxically we hear from media that there is a tumbling block in India also in the name of new laws in many of our States. Recently in our neighboring state of Madras many Christians converted back to their original religion. This type of re-conversion are being persuaded and blessed by the authorities.]
This effect of backsliding of the enlightened people is more being revealed in Chapter 6.
"For it is impossible for those who were once enlightened, and have tasted of the heavenly gift, and were made partakers of the Holy Ghost, And have tasted the good word of God, and the powers of the world to come, If they shall fall away, to renew them again unto repentance; seeing they crucify to themselves the Son of God afresh, and put him to an open shame."
(Hebrews 6:4-6)
In single sentence we can see the motivation of writing the epistle that to make confident; 'But we are not of them who draw back unto perdition; but of them that believe to the saving of the soul.' This waning from our original faith leads us to a pitfall. Our spiritual slackness or our spiritual indifference leads us only to destruction. But we are not in the group who are backsliding and falling away to devastation, but we should be in the group of the faithful who receive salvation. It is a God given privilege, not based on our merit but purely on His Grace.
There are three main themes the writer needs to highlight through his letter:
1

Show the same diligence to the full assurance of hope unto the end of our life:
There is no season, no time or stage of life, when we may be discharged from the duty of diligence. The Christian should live forever with full assurance of hope.

The modern spirituality is expressed in three different ways:

Seasonal Spirituality:
Spirituality of many people arose only during some seasons like, Christmas, Easter, Passion Week, Lent period etc. This may be good for a starting.
Occasional Spirituality.
Some people express their spiritual needs only certain occasions in their life like birthday, wedding anniversary, examination time etc.
Incidental Spirituality.
This is the spirituality expressed during Desease, problem, difficulties etc. This may also be good for a starting. Psalmist says "It is good for me that I was afflicted, That I may learn Your statutes." (Psalm 119:71) This spiritual enthusiasm we should maintain always till last breath of our life. This is what Paul exhorted.

2

We should not be slothful, sluggish or lazy:
To do away from our sluggishness we should have a disciplined life of principle. Principles and laziness are of two extreme ends. Not to pray sometime, but there should be a time for prayer. Not to pray in any manner, but to pray as it is needed. We should go for worship sometime at some where but worship appropriately to the true spirit with full mind.

3

We should imitate those who through faith and patience inherit the promises:
Paul exhorts us to imitate certain people. 'Be imitators of me, just as I also am of Christ.' By these words we are advised to imitate life and habits of Jesus, if we wish to be truly enlightened and free from all blindness of heart. Let our foremost effort; therefore, be to emulate the life of Jesus Christ. We are not the first traveler in the path. There are many who had traveled in the path with dignity, sense of honor, and self esteem. We are urged to imitate those who inherited the promises through their faith and patience. They moved, proved and braved. They moved through this way in graciousness, proved its importance and achieved the strength of it. Paul inculcate us follow them. While living in this world itself, how they could inherit the promises? They had certain principles, values and moral integrity in their life. They lived with some principles and they lived for some principles. It was their nobility. Not only they lived with the values and virtues of the Kingdom, but also they lived for it. It was the tenets and principles of the Kingdom of God, they upholded and preserved in all sectors of their life till the end of their life.
We can also inherit these promises. They didnít sacrifice their principles for the temporal benefits. Paul compares the life of a Christian as a race. Let us run this race that is set before us with patience and integrity. Let us refer two biblical characters in this respect. Esau was elder to Jacob, but the name of Jacob is always pronounced first through out the scripture. Our heavenly aspirations are spoken of as bosom of Abraham, Isaac and Jacob. In the same epistle of Hebrews we read the reason for this priority. It is mentioned about Esau as a profane person who sold his birthright for one morsel of meat. As per the worldview, Jacob is seen to be unethical to put forward a condition to his famished brother to give food to quench his hunger. But we learn from the book of Genesis that it was not the reason that Esau is deprived of the linage among our Patriarchs. "And Esau said, Behold, I am at the point to die: and what profit shall this birthright do to me?" With this notion Esau despised his birthright. In order to satisfy a temporal bodily need he disposed of his inheritance. We all got a renewed life in Christ as our inheritance. This great rebirth by Grace through Christ, we should not despise of, for our temporal, physical or carnal needs. Guilt of Esau was that he lessened his status given by God without realizing its responsibility, honor and nobility. It caused for the fall and devastation of Esau.
The one, who got values and have the insight of our status in front of God, will never go astray from his principles. We see the greatness of the child Daniel in this context. King Nebuchadnezzar had appointed four Jew boys who were unblemished, handsome and skillful in all wisdom. King ordered for the meat and wine for these children from the King's table. But Daniel took a strong decision in his mind that he will not defile himself with the king's meat, nor with the wine the King drank. Daniel had chosen to avoid everything which will corrupt his purity and requested the prince of eunuchs to this effect. The conviction and courage of child Daniel is well demonstrated here. We have to imitate Daniel.
The Christian witness of Jesus Christ could aptly be accomplished at the place wherever we are, it may be our workplace, home or worshipping place. In a recent article the author had well pointed out, the drawback of Indian Christians for their mission is that they could not make Jesus an influencing factor in their life; on the contrary, they want to influence Jesus for their material benefits.