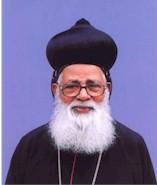 H.G.DR.GEEVARGESE MAR OSTHATHIOS
Diocesan Metropolitan of Niranam Diocese of Malankara Orthodox Church. A Theological and Biblical Scholar, Orator and a good writer. Patron of many Charitable Christian Organizations.
The Bible teaches us 'God is Love' (1 John 4:16) The theory of 'Love Your enemies and pray for your persecutors' is seen only in the teachings of Jesus Christ and nowhere in Old Testament or in any other religion. Understanding and truly following God, who is the incarnation of Love, could be done only by true Christians. Bible teaches us to Love the God and Love your neighbors as thyself. Faith is fruitless without Love. The magnitude of the importance of Love and charity in Christianity is emphasized by the word '

....

and have no charity, I am nothing.' (1 Cor. 13:2) We can not Love God without loving our neighbors. 'And this commandment have we from him, That he who loveth God love his brother also.' (1 John 4:21) 'If a man say, I love God, and hateth his brother, he is a liar: for he that loveth not his brother whom he hath seen, how can he love God whom he hath not seen?' (1 John 4:20)

The Crown of the Old Testament is David's Psalms 23. There is no other Psalms which children around the world by heart like Psalms 23. Lord's Prayer (Mathew 6:9-15) is the Verse much more globally used prayer and much super to the Psalms 23. Comparison of these 2 scripture passages reveals the depth of the faith and the width of Love. Psalm of David proclaim his faith in the Divine God. But the Lord's Prayer calls for an unselfish and unblemished Love.
1. God is my Shepard
(Personified Prayer)

Our Lord who art in Heaven
Calling 'Our' Lord not 'My' Lord

2. I shall not want
(Depth of Faith)

Thy Name, Thy Kingdom, Thy will.....
Not praying with 'My' Name

3. He make me to lie down in green pastures
...leads to still waters
...consoles my soul
(This also get by faith)

Give 'us' our daily bread
(Prayer of Global Love)

4. I shall not fear in shadow of death
(Courage of a firm believer)

Will be pardoned if you pardon
(The way to stop the war)

5. Thou art with me
(Courage and Consolation of a firm believer)

Relief from the temptation of Satan
(To keep away from Sin)

6. Your Rod and Staff comfort me...
Faith for the feast amongst enemies and anointing Oil

Kingdom only of Heaven
(Kingdom of nobody in the earth)
In the above two prayers, the first one manifest the depth of faith, but the latter manifest an unselfish and glorified love. The social aspect of religion is not seen in the David's prayer. Third millennium demands one religion with love, believing the eternal, social sharing and self emptying joyful love of God. God who light to the just and unjust, demands us also to love all people without distinction of cast, creed and colour. The divine and Celestial God is the Social God of Love.