DEVOTIONAL MESSAGE
CHALLENGES OF THE CALL OF GOD
Rt. Rev. Thomas Mar Timotheos Episcopa
Diocesan Bishop of Kunnamkulam-Malabar Diocese
Marthoma Church

With the call of God, we should cut down the self made and unholy idols in our life. Honoring the creation than the creator and adorning the given things than the giver are synonymous to idol worshipping. God gives us all a commission to act very unexpectedly and at strange situations. When we return an obedient answer to them the divine calls become effectual and God can make us effectively instrumental for Him. Another important quality we should bear at the call of God is our humility.

COVER MESSAGE
WOMEN IN THE SALVATION PLAN OF GOD
By Dr K.C.Nainan, Atlanta, Georgia, U.S.A

In the life and ministry of our Lord, women played a very important part. Our Lord was born as the son of a human virgin mother. For the first time, He revealed himself as the Messiah to a sinful Samaritan woman who preached the good news of her salvation to the people of her town. After the resurrection, the glorified Savior first appeared to a woman, Mary Magdalene. What an honor and privilege to all women he bestowed! On the day of Pentecost the gift of Holy Spirit was poured out to all men and women.

ARTICLE
FROM COCHIN TO GIBEAH : A FLASHBACK

By Prof. Dr. Zac Varghese, London

Women seem to have no position or dignity in many old contexts, but same situation still exists in many cultures even today. I wonder how many thousands of years that we need to wait to see a gross evolutionary change to remove man's inhumanity to man; calling it a beastly behaviour is not doing justice to beasts. It is time that we learn to worship every woman as a mother and sister. We need 'glorious rebels' and role models in our faith communities today to plead for distributive justice to everyone.

ARTICLE
NANOTECHNOLOGY : PROMISES AND CONCERNS

By Dr. Rajan M. Thomas Pennsylvania, USA

Nano-technology leads man to create machines that will shape things at the molecular level. From this ability he may be able to develop molecular-sized computers and robots, which could shape the physical world minutely. Religious community opposes the nano-technology with a misnomer that it will distort the world through uncontrollable alteration. While religion is an exploration for eternal truth, Science is only an exploration of materialistic truths within the eternal truth. Above all, social commitment of science and religion is a common ground that is the betterment of humanity.

ARTICLE
THE SACRAMENT OF BAPTISM

By V. Rev. K. Mathai Cor-Episcopa

Since the beginning of Christianity Baptism has been considered and practiced as an essential means of Grace and Salvation. Baptism is an initial step to eternal life and it is the last commandment of our Lord, Jesus Christ. In the early church both adults and children were baptized. Baptism is an initiation into the membership of the church and thus as the part of the Body of Christ. Children are capable of realizing divine presence and receiving God's grace.

ARTICLE
KINGDOM OF HEAVEN

Though Heaven is hidden from our bodily eyes, it is like a treasure that is present within us also. Whoever does not receive the kingdom of God like a child shall not enter it. Love creates, whereas hatred destroys one's salvation, friendship and our own inner and external lifestyle. Whereas the gate pass for the admission into that arena of eternal peace is the pre-puberty life culture of purity, innocence, humility and serene and selfless love towards God.

ARTICLE
SAINT GEORGE AND EASTERN CHURCHES OF INDIA

By Prof. George Menacherry

St. George is very much honored by the Eastern Orthodox Church. His major feast day is on April 23. There are numerous churches dedicated to Saint George in India. The devotion to St. George is very popular in India especially in Kerala. It might appear strange but is true that while the English patron saint's name is the most popular in Kerala, in England itself the most popular and most common baptismal or Christian name is that of the father of Kerala Christianity viz. Thomas.

SERMON
WORLD-WORTHY BEARERS OF THE GOOD NEWS OF JESUS, OUR MESSIAH

By Rev. John Mathew, Canada

The world is becoming a tough place to survive. That's why we must 'world-proof' our children, even adults. Jesus indisputably acknowledged this in his ecumenical or high priestly prayer: I don't ask you to take my followers out of this world, but keep them safe from the evil one. May we like the salt for and light to the world in which we are called to live. May God grant us grace to be worthy to live as salt and light on earth.

POEM
THE UNIQUE BUSH

By Mrs. Aju Tharian, New Jersey

This is on my way to work
I travel thru this path often
But never struck to me, until today
May be the red light, made me stop.

SYNOPSIS-SERIES
SYNOPSIS FOR MEDITATION-FEBRUARY
By V. Rev. Thomas P. Mundukuzhy Cor Episcopa
Mayaltho : The Presentation Of Infant Jesus In The Temple [Luke 2:22-40]
First Sunday after Mayaltho [Matthew 4:12-22]
The Fast Of Nineveh
Remembrance Of The Departed Clergy [Matthew 24:42-51]
Remembrence Of All Faithful Departed [Matthew 25:31-46; Luke 12:32-48; John 5:19-29] MALAYALAM SECTION:
ARTICLE [MALAYALAM]
SALVATION THROUGH GRACE

The inn and innkeeper in the parable of Good Samaritan is synonymous to the Holy Church and Good Samaritan to Jesus. Salvation is a gift of God through His grace of God. Through baptism we enter into the experience of salvation and by our faith and life we bring this experience to perfection. Experience of salvation should be affirmed by us and it should neither be neglected nor discarded.

ARTICLE [MALAYALAM]
FIVE BROTHERS OF THE RICH MAN

By Rev. Fr. Varghese Varghese

The five brothers of the rich man in the Parable of Rich man and Lazarus are the symbol of the worldly people who put their eyes for the selfish nature. The first brother is a selfish man who not ready to share with. Second brother is extravagant. Enjoyment is the face mark of contemporary society. Another brother is the one who exploits power. Other symbol is hypocrites.

POEM [MALAYALAM]
GOOD SHEPHERD

The Lord is my shepherd, I shall not want. He makes me lie down in green pastures; He leads me beside quiet waters. He restores my soul; He guides me in the paths of righteousness For His name''s sake. Even though I walk through the valley of the shadow of death, I fear no evil, for You are with me; Your rod and Your staff, they comfort me.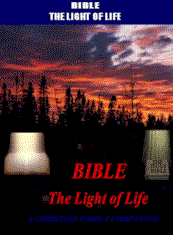 'The Bible
Light of Life'
[A Christian Family Companion]



INDIAN CHRISTIAN ORTHODOX NETWORK


| | |
| --- | --- |
| | The KCBC Darshanika Vyjnanika Award for 2008 was presented to Chev. Prof. George Menachery by HE Mar Thomas Chakiath, Chairman of the KCBC Media Commission, on 25th January 2009 at POC Auditorium, Kochi (Ernakulam). Chev. Professor Menachery is an esteemed author of Light of Life Magazine and many of his enlightening articles are there in the Archives. The entire LOL family cherishes this honor and extends felicitations. |
New York (ENI). Barrack Obama attended prayers before he became the 44th president of the United States at a ceremony seen to spotlight the complexities of U.S. religious pluralism and the relationship of the United States with the rest of the world. Obama and his wife Michelle were accompanied to St John's Episcopal Church on Lafayette Square, across from the presidential White House, by his about to be-vice president Joe Biden and his wife Jill. At the service, Pentecostal Pastor T. D. Jakes preached. President Obama, a Christian son of a white Protestant mother from Kansas and a black Muslim father from Kenya attended another prayer service at Washington National Cathedral early on 21 January. There, the Rev. Sharon E. Watkins, the president of the Christian Church (Disciples of Christ), became the first woman to lead the traditional post-inaugural service, which stretches back to the first presidency. [951 words, ENI-09-0048]
Courtesy to ENI
Nairobi (ENI). On the day Barack Obama was being sworn in as the 44th President of the United States of America, African and Americans resident in Kenya marked the event through public celebrations and prayer. "This defining moment in world history also has a special meaning for the citizens of Kenya," the Rev. Phyllis Byrd Ochilo, a Presbyterian Church of East Africa minister, told journalists ahead of the inauguration, which was celebrated in the United States and around the world. The festivity was titled, "Fulfilling a dream". Along with it came songs, dances and feasts in Kogelo, the village in western Kenya, where Barack Hussein Obama, the new U.S. president's father, was born.
Courtesy to ENI
Tokyo (ENI). A Tokyo-based multi-faith and interdenominational coalition has sent U.S. President-elect, Barrack Obama, a list of proposed changes to military policies and arrangements in the Asia-Pacific region, where tens of thousands of Americans are stationed. Like many groups throughout the world, their expectations from the new president are high, and the interfaith coalition of 16 groups of Muslims, Buddhists, and Christians, made public their open letter to Obama that they sent at the end of 2008. [390 words, ENI-09-0033]
Courtesy to ENI
Mondasor, India (ENI). A teenager danced to the tune of a popular song, enthralling about 500 people gathered on Christmas Day at Mondasor's Catholic church in India's troubled Kandhamal district. A year earlier the region had been the scene of vicious communal violence. Federal soldiers stood guard outside the church, now converted into a relief camp for homeless Christians, as several people rushed to pin currency notes on the teenager's clothing in appreciation of his dance. Still, despite threats by some Hindu groups, Christmas passed peacefully in the remote district in India's eastern Orissa state. [521 words, ENI-09-0013]
Courtesy to ENI