H.G. GEEVARGHESE MAR IVANIOS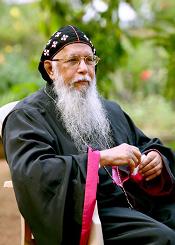 Metropolitan Geevarghese Mar Ivanios of the Kottayam Diocese of the Malankara Orthodox Church entered into eternal rest on 12th April 2013. The Metropolitan was 73 years old.

K.G. George, who was born in 1940 in a Marthomite family, had become a member of Malankara Sabha by getting fascinated to the divine sacraments and pure faith of orthodox traditions. His education at Oxford University and co-living with Kauli fathers had made him to reach the pinnacle of spirituality and monastic life. He was called to His Episcopate in 1985 and became a Metropolitan of Orthodox Church in 1991. Miraculous deliverance from a mortal disease and the intercession of the saints involved in it had nurtured him to a great extent for his change in life. It was a great dream of this saint to establish an eastern monastery similar to the Mount Athos Orthodox Dayara and he could originate a similar one at Njaliyakuzhy near Kottayam. Thirumeni walked on same beeline with Pampadi Thirumeni for his devotion and compassion.

Thirumeni loved to be away from noise and crowd as far as possible. He opposed many inappropriate traditional rituals with a clear mind to avert any aberration of the church from true orthodoxy. He loved the nature, silence and developed a new culture of blending with the nature by silent meditation and prayer.

Please Click the Link below to read the Tribute to Thirumeni


SAGE WHO PRAYED INCESSANTLY AND REJOICED ALWAYS
CShnSmsX {]mÀ°n¡pIbpw Fñmbvt¸mgpw kt´mjn¡pIbpw sNbvX ]pWytÇmI³


- By Jose Kurien Pulieril
DEVOTIONAL MESSAGE [REPUBLISHED]
PRAYER IN THE EASTERN CHURCH PERSPECTIVE
H.G. Geevarghese Mar Ivanios Metropolitan
Late Diocesan Metropolitan of Kottayam Diocese
Malankara Orthodox Church

The western style of prayers and sermons are logically gracious, benevolent and emotionally satisfying. The decisions we make in our life by our own will power will not suffice for solving our problems in our spiritual life. The Eastern Church prayer patterns not only lead us to the goal of spiritual life and bring about humility for the obedience to God but also that in itself is the step-by-step way to reach the spiritual goal of contemplation by the Grace of God. The prayer, fasting and worship lead us for a guard of the mind and internal purification.
SHORT BIOGRAPHY [REPUBLISHED]
H.G. PAMPADY KURIAKOSE MAR GREGORIOS
Pampadi Kuriakose Mar Gregorios was effectively an uncanonised saint of Malankara Church who had been a simple and humble priest of the Most High Lord of Heaven and a man of great faith who possessed the spiritual gift of love. He shared his spiritual gifts of love and kindness to countless numbers of people around him from all religious and social sects.
COVER MESSAGE
JESUS IS CALLING
By Dr K.C.Nainan, Atlanta, Georgia, U.S.A
Once Jesus invited all people who are carrying heavy loads put by religious and social leaders to come to Him so that He could give light loads and soft yokes in life which are bearable and He will be a Partner too because He is humble and gentle in spirit. Jesus called out loudly whoever are thirsty to come to Him so that they will be able to drink from Him and they will be filled with Holy Spirit. Our Lord is calling all the people in the world to come to Him for the gift of salvation and Holy Spirit through faith and sincere confession.
ARTICLE
AN AMAZING SPIRIT OF CARING AND SHARING
By Prof. Dr. Zac Varghese, London
The most unusual accidental coincidence of natural and man-made disaster in Japan questions our unshakable faith in science and technology and makes us painfully aware that technologies that enable man to create new lifestyles carry the potential for self destruction. The moder huge structures creates ecological imbalance, pollution and climate change. It is time for us to have the humility not to build our own towers of Babel. We need the humility to think that we own nothing, but we are custodians of everything. This custodial responsibility is necessary to care for this wounded and broken world.
ARTICLE
JOURNEY OF FAITH
Faith is being sure of what we hope for and certain of what we do not see. Faith can never be without action, Faith and actions works together, without action faith is considered to be dead. Without faith it is impossible to please God. But the Word of God says, Fear not, for ?I will be with you always even to the end of the world?. Let us cling on this promise of God that in every situation or in every trial, God is always with us. Obeying God without getting any promise?Walking the Way of Faith without receiving any Promise. There comes the real test.
ARTICLE
ST. GEORGE : A CHRISTIAN HERO FOR THE MODERN WORLD
After the saints and holy people of the New Testament, Saint George (Giwargis Sahado) is perhaps the most popular holy figure in Christianity. Saints of our Holy Church are heroes who instruct us in the fullness of hope, faith and love. According to tradition, St. George can restore sanity to the insane. St. George can be looked as a hero to show how far we can go in our faithful actions in this world. May the saint and the hero pray for us and help us.
ARTICLE
GOD OF LIFE - LEAD US TO FORGIVENESS AND RECONCILIATION
The ecumenical calling of the Church is to build just societies by participation in the struggles of the people for human dignity. The ultimate goal of peace making is to build a community of communities for the glory of God. Truth telling is an essential ingredient for the reconstruction of the community. The Church as reconciling community should be understood against the background of a broad biblical vision of God?s reconciling and peace making mission.
BOOK REVIEW
?ORMAKALUDE THERUVEEDHIYIL?
By Prof. Dr. Zac Varghese
(Autobiography of Rev. Dr. M. J. Joseph, in Malayalam, CSS, Tiruvalla)
SYNOPSIS-SERIES
SYNOPSIS FOR MEDITATION-MAY
By Late V. Rev. Thomas P. Mundukuzhy Cor Episcopa
New Year, Circumcision; St. Basil, St. Gregorios
Lent V: The Bent Woman : St. Luke 13:10-17
Lent VI: The Blind Man : St. John 9:1-41
40th Friday of Lent: St. Luke 4:1-13; Matthew 4:1-11
Lazarus Saturday: St. John 11:1-46
Palm Sunday: Matthew 21:1-17; Mark 11:1-11; St. Luke 19:28-34; St. John 12-19
Passover : St. Luke 22:14-30; St. John 6:41-63
Good Friday: St. Matthew 26-27; St. Mark 14-15; St. Luke 22-23; St. John 18-19
Good/Great Saturday: St. Matthew 27:57-66; St. Mark 15:42-16:1; St. Luke 23:50-56; St. John 19:31-42
Resurrection Sunday: St. Matthew 28:1-20; St. Mark 16:1FF; St. Luke 24:1FF; St. John 20:1FF
First Sunday After Easter: St. John 20:19-31
Second Sunday After Easter: St. John 21:1-14
MALAYALAM SECTION:
ARTICLE [MALAYALAM] - REPUBLISHED
CRISIS, FOR THE PROSPERITY OF GOSPEL
By H.G. Yoohanon Mar Chrysostomos Metropolitan
Hardships and sufferings in our life should not cause for desperation, and God man should not get stumbled on that; instead it should happen for the prosperity and enlargement of Gospel. The persecutors cannot imprison the word of God. St. Paul considered his life was Christ, and his death was gain. It is the undoubted character of every good Christian that to him to live is Christ. The glory of Christ ought to be the end of our life, the grace of Christ the principle of our life, and the word of Christ the rule of it.
ARTICLE [MALAYALAM]
FATHER ABRAHAM - PART II
By Rev. Fr. Dr. T. J. Joshua - Orthodox Theological Seminary, Kottayam
Father Abraham was a prayer Warrior. Intercessory prayer is an important part of the prayer life. The prayer should be selfless. Abraham prayer is a model for our prayer life. Abraham's prayer for Sodom is an amazing revelation of the faith of one man in the justice of Almighty God and an incredible boldness of a mere human before the Creator of the Universe. Also we get a lesson from family life of Abraham that the marriage life should be maintained pure and trustworthy.
ARTICLE [MALAYALAM] - REPUBLISHED
WEALTH : FOR JUSTICE AND GLORY OF GOD
By Rev. Fr. Kurien Varghese Chandanappally
Abundant wealth will not give peace and joy in our life. Exceeding dependence of wealth in our life lead us into devastation. The wealth has three defects, which detrimentally affect our spiritual life. Wealth makes man selfish, shatters man to the earth and it creates a false sense of independence. Our attitude towards wealth is very important in spiritual journey. We should not keep vain confidence in our wealth; instead do good with what we have.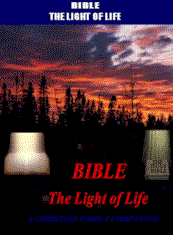 'The Bible
Light of Life'
[A Christian Family Companion]
An elaborate Bible Study Software package to establish a Special Rhythm in Christian Family and for the growing Children
Full text of the Bible.
Commentary for the Books and Chapters.
Context Dictionary

Personal and geographical Performa of Biblical Names.
Daily Worship Programs
Daily thoughts and your thoughts add on facility

Daily Prayers with Common Prayers .
Topic related links with early church fathers
Kids corner. With bible and add on Your stories.

Search engines to search your topics and words.
Family Personal Diary - Enter in...
News and Internet Site Links.

Video Clips
and much more ......

put together with most modern software technology.
--->


INDIAN CHRISTIAN ORTHODOX NETWORK



DOCTORATE AWARDED TO REV. FR. SANTHOSH JOSHUA:
| | |
| --- | --- |
| | [Kottayam July 1, 2015] Rev Fr. Varghese (Santhosh) K. Joshua, a member of Njaliamkuzhi Mar Ivanios Dayara, is awarded with Doctorate in Theology by the Dharmaram Vidya Kshetram Bangalore (DVK) which is a Pontifical Athenaeum for higher learning and formation. The theme of his Doctoral Program was based on the subject 'Church, the Bride of Christ' in the writings of Jacob of Serugh, one of the foremost Syriac poet-theologians. Fr. Santhosh had already achieved his M.T.H. from Serampore University based on his study of Early Church Fathers, M.A. in Theology from Baltimore St. Mary's University USA and M.A. in Syriac language from Mahatma Gandhi University, Kerala. |
It was the Saintly Metropolitan H.G. Geevarghese Mar Ivanios of Blessed Memory who could foresee the call of Fr. Santhosh for the spiritual vocation and picked up as his disciple. Fr. Santhosh strictly follows the footsteps of his Guru in all walks of life. In spite of the busy schedule of his doctoral program he chose to be with his fatherly Bishop to look after and minister him during his last months of life and turned out fortunate to be present on his bedside during heavenly call of Ivanios Thirumeni.

His latest assignment is as the pioneer coordinator of Sopana under the leadership of our Church Scholar Rev. Fr. Dr. K.M. George. Santhosh Achen has done an exemplary contribution to Sopana to reach out the motives and activities of the organization to a large extend of the world. He is the former Vicar of St. Thomas Orthodox Church, Washington DC, USA.

Fr. Dr. Santhosh Joshua is son of Kizhakkemannil P.C. Joshua and Marykutty of Kadeestha Church, Thumpamon North.

Congratulations to Fr. Dr. Santhosh Joshua in this great achievement. Achen turned out to be a great asset of our Holy Church to take up bigger and more responsible assignments of our Church.